hough it's possible to stay on the 'Outside Inside' by heading south down Raymond Pass to the west of Bella Bella and Shearwater, there are a few things on our list, so we head in to Shearwater for a night at the dock.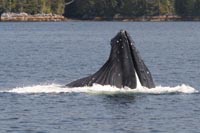 A couple help with the lines as we come in and stay to chat for a minute - they're Anne and Brian Keir from the Adagio. Brian recognized Sovereign from his teenage years when she was owned by John Girard, but well used by his four sons, one of whom was Brian's friend. Sovereign still had the four stateroom configuration in those days, and the Girards apparently traveled with a maid. We've met many Girard offspring all over the coast in our travels - they're a happy and fun-loving family, and are all delighted to see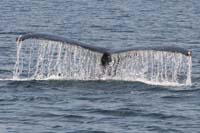 Sovereign still roaming the coast.

It's nearly noon by the time we get away the next morning. Out past Bella Bella and south down Lama Passage, retracing, for a few miles at least, our route northbound almost two months earlier. We turn right down Hunter Channel, departing from the classic 'Inside Passage'. At Soulsby Point we spot a lone humpback feeding - he puts on quite a display for us, and Cheryl gets some great photos. We head on down through Sans Peur Passage, into Cultus Sound, and then up into the McNaughton Group. There's some kind of floating fish camp in the 'Back Door Anchorage' (Douglass names), so we opt for 'Great Salt Lake Anchorage'

instead.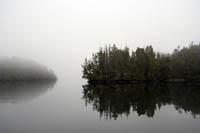 We're so engrossed in the spectacular scenery, partially fog-shrouded, that we both forget the dinghy is on the tow line behind us, not on the swim grid. I'm on the bow letting the anchor go and give Cheryl the signal for reverse, and I can hear/feel the line wind up in the port prop.

I put on the mask and, lying on the swim grid, stick my head under for a look. It's vey cold, and I can see that the line got pulled in in a big loop, and that loop has about 5 wraps on the shaft. I poke at it with the pike pole, and get one wrap free, but that's as far as I can get. We discuss strategy and end up deciding that Cheryl will get in with mask and fins and I'll lay on the swim grid with mask and snorkel - I'm able to hold all the loose ends clear and tell Cheryl what I can see, so it's quicker for her each time she goes under. It takes 5 or 6 plunges, then she gets the last wrap and it's free. We fire up the Hurricane heater, set the anchor, make hot chocolate, and Cheryl has a hot shower. Even with all that, it takes hours for her to get warm again. Note to selves: "Don't come north again without some kind of wet suit"

In the morning we troll out Cultus Sound to Superstition Point, but we're not having any luck today, and neither are the sport fishing charters we can hear on the VHF. Superstition Point is completely open to the prevailing SW swell, and it's a typical 5 feet or so today, but the absence of wind makes it pretty pleasant. We cut in behind the islands on the north side of Spider Channel, then turn east into Spitfire Channel. Then down between Spitfire Island and Hurricane Island to the cove Douglass calls 'Hurricane Island Anchorage'

.
If it sounds like we're in the middle of a WWII air battle, it's because these islands and channels, previously unnamed, were given names of famous WWII aircraft by the pilots based at Shearwater in the early years of the war.

On the way in, Cheryl had noticed exhaust fumes. I had gone into the engine room for a look, and found the port mixing elbow had a leak. In the anchorage we assess the problem - it looks like a single spot had rusted through. It's only 20 miles or so back to Shearwater, but we have some heavy duty epoxy aboard and decide that we'll attempt a repair. With that decision behind us, we go straight out and set the prawn traps.

At the prawn spot we meet Gib and Dorothy Brown from Tillamook, Oregon. They've been coming north every year in their Bristol 42 Our Way n Joy too, running out over the Columbia Bar and up the outside Washington coast. Makes me feel a bit embarrassed about our reluctance to cross Georgia Strait. They're an interesting couple, and we end up traveling mostly together for a week or so. Gib lends his expertise to the problem on Sovereign's exhaust mixing elbow, and I accept his offer of some large clamps to hold the new patch in place. The epoxy needs to cure for 24 hours before testing, so we resign ouselves to two nights in this beautiful place. We spend the late afternoon and early evening exploring the outer coast of the Breadner Group, just outside and south of Spider Anchorage. It has a wild, outer coast aspect, but the swells drop off quickly as we run back into Spider Anchorage.

The next morning Cheryl is doing some baking, so I rig up for some halibut fishing and head out to haul the prawn traps and try to trick some poor unsuspecting halibut onto my line. We'd had a good haul of prawns the night before, and again today. I reset the traps and move off to drop the halibut rig. After drifting for a few minutes I'm hung up on the bottom - I try all the tricks I know, but nothing helps to break it loose. Eventually I put on a glove, wrap the braid around my hand, and head off with the outboard to break the line. To my astonishment, it moves - not like a fish, more like an old tire. I discover that I can raise it up with the rod and reel in on the downstroke, and after 10 minutes or so of that up comes a big double prawn trap with some remnants of the fish that had baited it, and about 500 prawns. The buoy line was frayed off at about 75', perhaps cut by a propellor. It's not a halibut, but it'll do.

Later that day we test the engine while anchored, and the patch seems to be holding. We decide to take a chance and head south with it tomorrow and see how it holds up to a relatively short day of running. It turns out to be one of the most scenic days of the trip - we head south through Spider Anchorage, then north through the serpentine Brydon Channel. Then it's out past the Kittyhawk Group, Mosquito Islets and Lancaster Reef, across Kildidt Sound and into Nalau Passage. We turn right down Edward Channel and then out across Hakai Passage to the channel in behind Rattenbury Island, then down into Pruth Bay

, where we drop the anchor just inside the southern arm. There are several large yachts in the main arm of Pruth, out in front of the resort, and small charter fishing boats everywhere.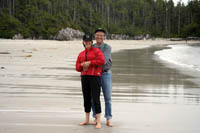 Our patch on the exhaust elbow is dripping a bit after the three hour run, so we go to work on it - clean up the old patch and the pipe around, dig out another spot that was about to go, and apply a much more substantial epoxy patch. Then we set the crab traps about 50' from the boat, using some old fish bits and a bunch of the smaller prawns from our Spider 'prawnfall', and head off by dinghy for the trail to West Beach. Hakai Beach Resort has a dock at the head of the bay, and they allow dinghy tie-up and trail access during daylight hours. They'll also feed you dinner for $100 a plate, advance reservations required. We amble across the wide trail to West Beach and spend an extremely pleasant couple of hours barefoot in the sand. We note a couple of trailheads which look like they would lead to more remote beachs - we'll have to save those for another time.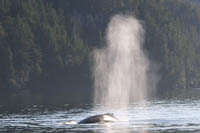 Back at the boat we find 2 large crabs in the trap, so back in it goes. The next morning Cheryl goes to pull the trap on her own for the first time - in a few minutes I hear a woohoo! and back she comes with 7 big keepers. We lift anchor in the fog and ease out Kwakshua Channel just as it's starting to lift. Halfway out the channel we encounter a lone humpback in almost perfect photo conditions - low sun, backlight, glassy water - but he's not very cooperative and soon we're on our way again. We're at the end of the 'outside inside', rejoining our route north as we head down Fitz Hugh Sound toward Rivers Inlet.
Next Chapter