he most comprehensive list of references about Haida Gwaii that we've been able to find is the one in Neil Frazer's Boat Camping Haida Gwaii (see under 'Cruising Guides...' below). He adds his insightful comments to each listing, and where possible, he's sought out the authors for a more personal experience, and tells us about it. I especially enjoyed his urges to paint his house and clean his yard after spending time with Kathleen Dalzell.

Here are the sources that have been helpful or inspiring for us -

Cruising Guides for Haida Gwaii

Douglass, Don, and Hemingway-Douglass, Réanne, 2002. Exploring the North Coast of British Columbia, Blunden Harbour to Dixon Entrance, 2nd ed. (Anacortes, WA: Fine Edge Productions)

Frazer, Neil, 2001. Boat Camping Haida Gwaii: A Small-Vessel Guide to the Queen Charlotte Islands (Madeira Park, BC: Harbour Publishing)
These two wonderful books, though completely opposite in approach and tone, have filled the void of cruising guides to Haida Gwaii. Both books go methodically around both Graham and Moresby Islands with sections for virtually all usable nooks and crannies. Where D&HD do it in a Nordhavn 40, a modern trawler-type yacht worth somewhere over $500,000, Frazer does it in a couple of different speed boats, like you would have used for water-skiing at the cottage 20 years ago, none big enough to sleep in, and none worth more than $5,000.

D&HD are meticulous about anchoring and report depth, holding, bottom composition and evidence of storms for every anchorage. Invaluable information for those of us who need to anchor. Their chart of Dolomite Narrows alone is worth the price of the book. Virtually every cruising boat in the north has a copy of this book - some have hole-punched it and put in a binder when the binding gives out - and some of the 'Douglass created' names for bays and anchorages are becoming commonly used. We used it every day, and found that it would have been a much less interesting trip without it.

Frazer, on the other hand, is much more concerned with the suitability of the upland for camping and what else might be going on ashore, including the politics of logging, fishing and Haida Gwaii. Frazer also has some very lyrical pieces of writing - see Farewell to Haida Gwaii for example - he's a scientist locked in a vagabond's body. This book added immensely to the personal side of our visit to Haida Gwaii.

Taken together these two books give a wealth of knowledge and experience where not much was easily available before.
Sailing Directions - PAC206 - Hecate Strait, Dixon Entrance, Portland Inlet and Adjacent Waters and Queen Charlotte Islands, First Edition, 2002 (Ottawa, ON: Canadian Hydrographic Service)
This is the long-awaited new version of the official Canadian Government Sailing Directions, now split up into 6 volumes for different areas of the coast. Terse to a fault, it's packed full of essential information for cruising - tides, entrances, dangers, lights and anchorages. It's also updatable from http://www.notmar.com

Frazer, Neil, 2004. Clothslining: Part 1 of 3, Lining out a small boat (Vancouver: Pacific Yachting, July, August and September 2004)

This three-part series details the technique of lining out - materials needed, how to rig it up, and how to put it into practice - essential if you're touring the north in a small boat, and useful to understand how to use the systems at the watchmen sites once they've given you the ok. Once you've stranded your dinghy and outboard 200' up the beach from the water, you begin to appreciate the wisdom of the clothesline.

Internet trip logs (like this one)

We weren't able to find very many internet logs of trips to Haida Gwaii, and of the ones we did find, none stayed cruising for more than a few days, 5 or 6 max. Most didn't make it to SGang Gwaii. For some the only cultural site visited was Hotspring Island. Regardless, we read every word of the ones we found.

Adventures in the Charlottes by Tim Whelan, 1998
Whelan did a terrific job of documenting his trip, and we've borrowed heavily from him in format and structure ideas. The Charlottes portion of his trip was a bit rushed though - we would have liked it if he had spent more time there. An endless stream of chicken fajitas and 20-something humour makes it a very engaging read.
Haida Gwaii by Jane Creed and Ian Macfarlane, 1999
C&M do a daily log with both trip and anchorage charts for each day, a really nice touch. Their actual writing is very succinct, often leaving you wishing they had said a bit more.
Queen Charlottes & Vancouver Island (West), by Tom Hall and Liz McLoughlin, 2004
British Columbia and Haida Gwaii, by Tom Hall and Liz McLoughlin, 2005
H&M do a wonderful job with their internet log - great photos and generous, thoughtful commentary. I was disappointed they didn't spend more time in Gwaii Haanas in their 2004 trip, but they made up for it by going back again this summer, about 2 weeks after we were there. After this trip, they seem ready to leave cruising behind them - must be something pretty special to make that happen for this pair. I enjoy their commentary and how they approach some of the same places and issues we approached. Good stuff.

Other Internet Resources

There are many web pages devoted to Haida Gwaii, the artists and Haida culture. These are just a few that caught our attention.

Cathedral Grove - Big Trees and Totem Poles
A great overview of totem art, history and the cedar tree. Nice mix of historic and current photos and art and full of useful references.
BC Bookworld biography of Bill Reid and his literary work
Bill Reid was a powerful force in introducing Haida art to the world and advancing the causes of Haida culture. This page gives a nicely balanced and detailed capsule summary of his life and major work.
To the Totem Forests, an exhibition mounted in 1999 by the Art Gallery of Greater Victoria
This is a stunning collaboration which summarizes the work of Emily Carr and others in First Nations sites in the early 20th century. The site is comprehensive and extremely well done.

Books about Haida Gwaii

Carey, Neil G., 1986. A Guide to the Queen Charlotte Islands (Edmonds, WA: Alaska Northwest Publishing Company)
This year marks the 50th anniversary of the Carey's arrival on the Charlottes. Cruising guide authors Douglass, Hemingway-Douglass and Frazer all give high homage to Neil and Betty Carey. Betty traveled extensively around the Charlottes in her 14' dugout canoe which you can see today at the Sandspit airport. Neil's book is essential information from one who knows it best.
Dalzell, Kathleen E., 1968. The Queen Charlotte Islands - Volume 1 - 1774-1966 (Queen Charlotte City, BC: Bill Ellis, Publisher)

Dalzell, Kathleen E., 1979. The Queen Charlotte Islands - Book 2 of Places and Names (Madeira Park, BC: Harbour Publishing)

Things that don't fit anywhere else

A very interesting film clip narrated by Bill Reid in his CBC persona describes the 1957 expedition led by Wilson Duff, UBC Anthropologist, to "rescue" Haida poles from SGang Gwaay llnagaay on SGang Gwaay, then called Ninstints on Anthony Island. Reid, already an accomplished artisan, had also become a spokesperson for Haida art and culture. He displays the wit and charm and intelligence that would characterize the rest of his life.

Several of Bill Reid's designs grace the new Canadian $20 bill, the first time any Canadian artist's work has been used on a Canadian bank note.

Sources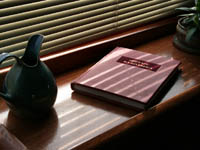 The old log book that came with Sovereign was nearly full and we had it in our minds that we'd like to design the next one ourselves when Cheryl's parents introduced us to Walter and Gerta Krause - Walter learned bookbinding as an apprentice in the old shops in Europe after WWII. We designed our pages and delivered them to Walter, and a few weeks later were rewarded with a beautiful leather bound, hand stitched work of art.
Walter Krause - Bookbinder
Maple Ridge, BC
604-466-2682
mataha (at) shaw.ca