he voice rang out across the anchorage, "A man would have to be a hopeless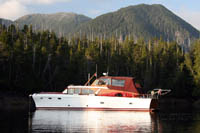 romantic to own a boat like that one". I can vouch for the hopeless part, and Cheryl says I'm pretty romantic, so I guess my neighbor had it right. Sovereign is a 1949 Chris-Craft Conqueror, built in Algonac, Michigan using "Philippine" Mahogany. If you were choosing which boat to take you to Haida Gwaii, Sovereign definitely wouldn't be your first choice, but she's the one we have, we've been cruising the lower BC coast with her for 14 years, and she's our full time home, so we've been making her ready for the big trip north.

She's 52' long plus swim grid and bow roller, has a beam of 12.5' and draws 3.5 feet. Planking is 1" Mahogany, with double diagonal planking on the bottom.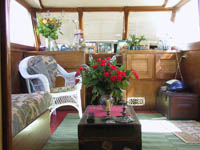 She has three Chrysler Hemi gasoline engines, 354 cu. in. M45-SP3s which, when new, put out 275 HP each. The centre engine has been disabled since before I've owned her, and it's been somewhat cannibalized for parts over the years. The centre shaft is still in place, prop removed.

At one point, with all three Hemis running well, the boat was reported to have done 30 knots. Now we travel at a much more sedate 7.5 knots at 2100 rpm.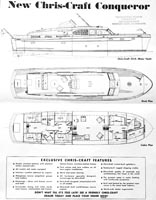 Even at that speed we consume 25 litres of fuel an hour. We can pick it up to 10 or 11 knots if we need to, but fuel consumption goes way up. We carry 1300 litres, which gives us a range of around 370 nautical miles. Puts us just under the "1 US Gal per knot" range.

The interior of the boat is much different than new. Originally there were 4 sleeping cabins with beds for 8 and three heads, 2 with showers. Living aboard has different requirements. The galley has been expanded to take up half of the original crew quarters forward, with the other half becoming hanging locker and anchor locker. One of the midships cabins has been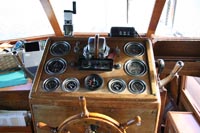 converted to a head with half size tub and shower, while the other cabin has become a very compact but efficient office with wireless and wired networks, an external 2.4gHz antenna for picking up external wireless signals, and even a spot for one of Cheryl's watercolours.

We carry 2-14' kayaks, 2 mountain bikes, and an assortment of crab and prawn traps and other fishing gear to keep us busy when traveling. Cheryl carries a painting kit and can do both watercolours and acrylics while under way.

Click here to listen to Sovereign's exhaust
CBC interview with John and Cheryl about living aboard