ivers Inlet - for British Columbians, the name conjures up images of fantastic salmon abundance.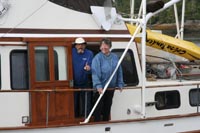 For all of known history until the late 1900s, this inlet and watershed produced sockeye salmon runs that sustained first nations settlements, then ten or more canneries and hundreds of families. Salmon replaced fur trading in the evolution of coastal life in B.C., and the sockeye fishery in Rivers Inlet played a major role. I fished here for a few years in the 80s, when the stock levels were about 1/4 of historic levels. By the mid 90s sockeye stocks were down to about 5%, commercial fishing was closed, and no one knew for sure what had happened. Was it overfishing, or logging, or climate change, or offshore interception? The only sure thing was that Rivers Inlet was never going to be the same again.

With those less-than-pleasant thoughts in mind, we head up Darby Channel, eagerly anticipating Dawson's Landing. This had been one of the main centres on the coast when I was fishing, with a good store, fuel dock, and regular float plane service. We often had to jog for position off the fuel dock waiting our turn. Not today. We strain to see some sign that it's actually open. It is, and we take on some fuel and other supplies, but the overwhelming feeling here is that Dawson's can't figure out how to fit into the new Rivers Inlet reality. We leave feeling a bit nostalgic, and head across the inlet to tour past some old cannery sites. Many of them have been converted into sport fishing lodges, some with permanent residents, since the decline in spring and coho populations hasn't been nearly as dramatic as sockeye. The inflow is strong this afternoon and we're glad to tuck in behind the islands by Good Hope, then down past Wadhams and into Johnston Bay

for the night.

Johnston Bay is alive with jumping pink salmon, so I don my "Humpies from Hell" T-shirt and we take turns casting buzz bombs off the bow. Later we unload the kayaks and paddle around a bit - Johnston Creek looks like it might be interesting at high tide tomorrow morning - might find a grizzly looking for a snack.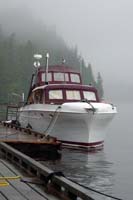 The navigable part of the creek proves to be just a couple of hundred yards the next morning, with no grizzlies in sight, but we do find a lovely old log cabin, and we leave a note in their log book.

The forecast isn't good for getting around Cape Caution, and the outlook period has gales and lots of rain, so we decide to give Duncanby Landing

a try. A former B.C. Packers fish camp, new owners have upgraded the docks and restaurant, and have some on-shore accomodation as well. It's pretty pleasant, and the forecast gales and rain arrive, so we end up spending three nights here, enjoying chef Dean Bond's cooking, catching up on a few boat chores, and doing some work on the web page. The dinghy filled nearly to overflowing - must have been more than 6" of rain.

Finally the weather breaks, and we get a late-morning start. Conditions are similar to our northbound rounding of Cape Caution,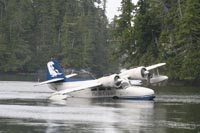 not much wind, but a big leftover swell. Both lighthouses on the route, Egg Island and Pine Island, were calling the swell "low to moderate", and West Sea Otter buoy was reporting 1.5 metres, We plot a course into Smith Sound in case things get ugly, but it proves to be manageable and we carry on, ducking inside Table Island to make a quick lunch, just as we did on the way up. Our goal is Blunden Harbour

, so we take the mainland route, down Richards Channel with a scenic cut through the Jeannette Islands. Blunden Harbour looks like it could be a great destination anchorage, with the big lagoon and the old Kwakiutl village site. Emily Carr made the well-known "Blunden Harbour" painting from a photograph taken here in 1912. It's late by the time we arrive however, and we're on the march home, so we have to leave exploration for another trip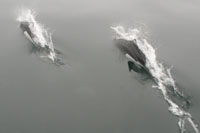 The next morning, August 22, it's sunny as we lift the anchor but we slip right into thick fog at the entrance, and don't see much at all until we enter Trainer Passage a few hours later. About half way there suddenly a Dall's Porpoise slashes out of the fog and across the bow, then there's about half a dozen of them. They're very fast and hard to photograph, not hamming it up for the camera like the Pacific White Sided Dolphins we had encountered in Hecate Strait. Just as suddenly they're gone. The fog lifts once we get into the Broughton Archipelago, and we enjoy the scenery as we wind down into Waddington Bay

. It's blowing about 25 knots here, but we set the prawn traps and crab trap, and launch the kayaks anyway, and thoroughly enjoy exploring the islets and channels.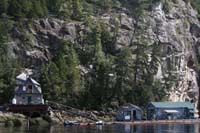 We get a few prawns for our trouble, and only some undersize crabs, and the next morning we head out for a quick stop at Echo Bay

, just a few miles up Cramer Passage. Echo Bay has been a mainstay of Broughton Archipelago cruisers and residents for many years, but it's currently up for sale, future unknown. We inquire about the price of gas - $5.85 per imperial gallon - their pump is still in imperial gallons! (1 imperial gallon = 160 oz, or 5 US quarts, or 4.546 litres) That makes it almost $1.30/litre, a new record for the trip. We put some in anyway, and then make use of their wireless internet connection to check email and update the web site - it's the first chance we've had to update the site since leaving Queen Charlotte City 18 days ago.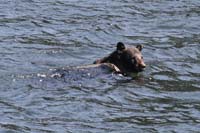 We enjoy a surprise visit with Gib and Dorothy, who had been up in Fife Sound, and then head back down Cramer Passage where Gib has spotted a black bear swimming across the channel. We leave them at Waddington Bay and turn south, down across Knight Inlet past Mamalilaculla, then through Beware Passage and back up Clio Channel. We see lots of prawn traps near Lagoon Cove, and are tempted by the lively-looking marina, but we press on through the Blow Hole, past a closed and deserted Minstrel Island to anchor in Cutter Cove

.

We can't find much to hold us here in Cutter Cove - the crabs are small and the wind has blown all night, so we're off early heading down through Chatham Channel and out Port Harvey into Johnstone Strait. We feel a strong pull to the right toward Robson Bight and some orca viewing, but the pull home is stronger. We stick to the mainland shore and find ourselves traveling with a bunch of gillnetters until we turn in to Port Neville

. Erica gives us a tour of the museum and then introduces us to her mother Norma. They're Hansens, and their family has been here for more than 100 years, finding various ways to make a living through the ever-changing coastal landscape.

From Port Neville we had been planning to retrace our route through the Yucultas ( fisherman pronounce this "yucca-taws"), but Johnstone Strait is pleasant, and we had chatted about anchorages on the Discovery Passage side with George and JoAnne Benson on the Teal, a much-improved Coronado 25 sloop. George sailed this boat here from San Francisco, and has cruised this coast in her for the last few years. He's also published a wonderful book about harbour-hopping up the coast - Cruising the Northwest Coast - From the Golden Gate to Port Angeles. So when we get to Fanny Island, at the point where Sunderland Channel branches off from Johnstone Strait, we bear to the right and enjoy a real sleigh ride down through Race Passage, occasionally seeing 11 knots on the GPS. The current is fickle, and we sometimes drop back to under 8 knots, then we catch it again, and back up to 10 or 11. The wind is westerly behind us, and starting to build a bit as we start thinking about an anchorage for the night. We cruise in behind Turn Island, but it seems exposed to the NW, and the wind is forecast to rise to 25 knots. We're hungry and weary, but a restful night seems worth one more hour, and we head up Nodales Channel, then in past Thurston Bay Marine Park, which looks lovely and busy, to the deepest part of Cameleon Harbour

, where we enjoy a perfectly quiet night.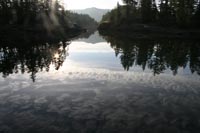 We're away early the next morning to time the rapids in Okisollo Channel on our way to the Octopus Islands. It's pretty foggy, but the radar helps us avoid all the sport fishing boats, and once we're into Okisollo Channel the fog lifts altogether. We dawdle along with a couple of very shy Harbour Porpoises trying for a decent photo, but no luck. We slip through the narrows a half hour early, and find anchorage in the shallow western-most bay in Octopus Islands Marine Park

. This is another perfectly quiet anchorage - even with a saiboat out in front with Dad and three sons - it's laundry day, and Dad jokes they get clean underwear once a week whether they need it or not. Later the boys row over with some sort of butterscotch-oatmeal squares they had baked, and I let them know it's a perfect birthday present.

As we leave in the morning, August 26, we realize that this will be the last 'new' anchorage for us, and that we'll soon be back in our home cruising grounds.
We head out through Hole in the Wall, across Calm Channel through Raza Pass and Pryce Channel, then down Waddington Channel to Prideaux Haven

, seeing familiar sights again and looking forward to a swim. We stern tie next to a large boat that runs their genset 18 hours a day whether they're on board or not, and keeps lights burning all day to provide a bit of a load. It's such an opposite way to experience the coast than we're used to - oh well, off come the kayaks and we paddle up the pass to Laura Cove - the rope swing still looks functional, though we don't test it. We find a rock in the pass and beach the kayaks. It's a wonderfully warm and sunny afternoon, and we swim and bake on the rocks until we lose the sun. I sleep fitfully that night even though it's calm, perhaps because the stern is only 10' or so from the rocks.

In the boat shuffle that takes place late the next morning, we re-anchor out in the middle where we can swing. Prawn fishing is good to us outside the entrance, and the worsening weather helps us decide to spend another night. We enjoy an unexpected visit from Howard and Eileen Kelly on their lovely old Chris Smooth Jazz. In the late evening the gusts get surprisingly strong for Prideaux Haven, and quite a few boats drag their anchors. Thankfully the Bruce stays put, and things calm down just before midnight. Cheryl and I remark that in 68 days so far, we haven't had a single sleepless night at anchor.

With the somewhat forlorn realization that the trip is over, we head out the next morning. There's still 15 knots from the SE, but it's protected going for the first few hours. We stop for fuel at Westview, then turn in to Garden Bay

in Pender Harbour for the night. It's crowded, but we find a spot out around the corner. Next day we ride a 15 knot NW all the way home to Spruce Harbour

.

1700 miles in 70 days. In spite of bad weather and lots of wind around us, we didn't have a single sleepless night. We saw places and things that I've wanted to see first hand for 30 years. Cheryl and I became a well-oiled (no smart remarks needed from friends) boat team, and the planning and provisioning worked superbly. Would we go again? Absolutely. What would we do differently? Take even more time. Make sure we had some sort of cold water suit for getting under the boat in emergencies. Telephoto lens for the camera would have been nice, but certainly not essential. That's about it. We hope you enjoyed reading about the trip.