or nearly 200 miles,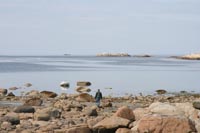 from just north of Cape Caution all the way to Prince Rupert, there's a parallel route to the traditional 'Inside Passage'. It lies only 5 to 30 miles west, but it's a world apart in weather, traffic and 'wild feel'. When gales are howling in the Hecate, the sanctuary of Grenville and Princess Royal Channels is most welcome, but when the weather's settled, as it often is in summer, the 'outside inside' offers a wealth of uncrowded adventure and exploring.

We thread our way in to Larsen Harbour

through the reefs, and are most grateful for the calm weather. Only one other boat is there, on the innermost buoy, so we take the outermost and relax after the long crossing, still feeling exuberant after our dolphin encounter. The next morning we set out in the dinghy at low tide for the outer coast. The Hecate is glassy calm as we poke around the maze of islets and reefs surrounding Larsen Island.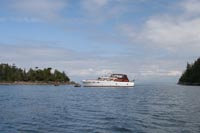 We encounter a group of about 10 Stellar Sea Lions in the water, and they seem as curious about us as we are about them. Eventually we work our way around the south end of Larsen Island, and the tide rises just enough to let us complete our circumnavigation.

It's already mid-afternoon when we leave Larsen Harbour, no particular destination in mind. We head southeast down Principe Channel in the laziest way - Cheryl paints, I troll occasionally and read the Douglass guide and pore over the charts. We finally settle on Moolock Cove

in Mink Trap Inlet and spend the night with thousands of moon jellyfish, and almost as many black flies.

We're in a tidal pattern now that has low water around 9 am, then the flood until mid-afternoon. If we want to travel with the tide, and avoid tide against the forecast 20 knot NW, we either have to start off at 4 am, or wait til 2 or 3 in the afternoon. We don't spend much time on this decision - in the morning, Cheryl bakes bread and makes unbelievable cinnamon buns while I do engine maintenance and some web page stuff, and we get under way just before 3 pm.

The forecast was on the money, as it's blowing 20NW at Bonilla, and nearly that in Principe Channel as we come out of Mink Trap Inlet. I've plotted courses for McMicking Inlet on Campania Island - the good weather course - and for Fin Island at the edge of Wright Sound - our escape route back to the inside in case things turn ugly. It's pretty good going with the wind on our stern, and as we approach Nepean Sound, the intersection with Otter Passage out to the Hecate, the winds drop to light and the seas go down.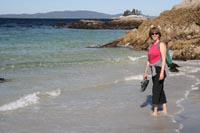 We're encouraged, and continue down Estevan Sound, looking out at the wild Estevan Group, which still has some uncharted passages among the islands. It's evening as we thread our way in through the reefs to McMicking Inlet

, catching a glimpse of the incredible white sand beaches which beckon for tomorrow.

Campania Island, at least what we can see of it from our anchorage in McMicking, reminds us of the south end of the Big Island in Hawaii. Massive granite peaks soar 2000' in the background, while the foreground is a gnarly, rocky flat reminiscent of the lava fields. The beaches just south of McMicking are open to the SW through Camaaño Sound, and they're broad and gently sloped, protected by reefs,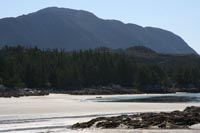 something like a South Pacific atoll. The next morning we head for the beach, crashing through swells and slop from the 20 knot breeze. It's as nice a beach as we've seen anywhere in B.C., gorgeous and full of life. There's a long run of fresh large tracks which puts us on edge as we strain to remember the characteristics of the tracks of the possible creature - bear, wolf, cougar - later we find out that bears have 5 toes, much like a human foot. Wolves and cougars both show 4, with the middle two roughly equal length for a wolf (or dog), and unequal for a big cat. That makes these wolf tracks, since there's not another person, or dog, for miles, and we had heard wolves the night before in the anchorage.

We could have easily spent a few days here - Cheryl's notes in the margins of the Douglass book say "…my new favorite anchorage", but this isn't the first time she's said that. We do another mid-afternoon departure, again with two courses ready. The first takes us straight across Camaaño Sound and down through Laredo Channel - the second is an escape route back up through Campania Sound and Whale Channel to the inside. We're a bit conflicted because we missed Khutze Inlet on the way up, but the allure of Laredo Sound is strong. The swells build as we get out into Camaaño Sound, getting to about 5 feet or so. Suddenly there's the unmistakable projection of an orca dorsal fin and we go on 'whale alert', scrambling for the camera, polarizing filter, etc., but the weather's too rough to stay sideways in it, and this small group of orcas is moving north with purpose, so we continue on course. Amazingly, these turn out to be the only orcas we see for the entire trip.

Just as they did in Nepean Sound, the wind and swells drop quickly as we get into Laredo Channel, and we coast down toward Quigley Creek Cove

. This lovely cove, unnamed on the charts, is surrounded by islands and today it's filled with jumping pink salmon. The only other boat here, the Bonaventure, also from False Creek, calls over to say they have too much salmon and could we use some for dinner? You bet. We test the water temperature and find it surprisingly warm - in we go for our first swim of the summer - it's August 9. After dinner we contemplate our next destination. Even though it's early for the white Kermode 'Spirit' bears to be down on the creeks, the presence of the pinks gives us faint hope, and we decide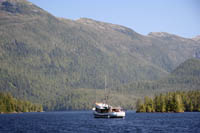 that we'll head up Laredo Inlet, which cuts deep into the heart of Princess Royal Island, the next day.

We prowl the shoreline of Laredo Inlet all the way up, and stick our nose into every nook and cranny, but not a sign of a bear. In fact, we haven't seen a single bear of any kind the whole trip. We did see some fabulous photos, both of grizzlies and of kermode bears, but it would be a few more days before we actually laid eyes on one. Strong convection winds push us up the inlet til we reach the Bay of Plenty

- we hear there are lots of crabs here, so we decide to stay the night. We set the crab trap and prawn traps, and then fish for a while in a perfectly calm spot at the entrance of the bay - the wind's rolling up the inlet at about 20 knots, and is a good 15+ knots where we're anchored, but right here it's calm and warm, and we catch a nice big red snapper for dinner. The only other boat in the bay is, interestingly, the Laredo, a converted BC "super" seiner now out of Gig Harbor, WA. It's a beautifully done boat, and the new owners are "bringing her home".

We get plenty of crabs all right, more than two dozen, but there are only two that are even marginally legal, so we put them all back. Same result in the morning as we head back down Laredo Inlet into the fog. The Laredo is coming hard behind us, but they draw nearly 10' and choose to go out and around Hastings Island while we take the more direct route through Thistle Passage. They're behind us again as we swing around and in to Meyers Passage, but here again their deep draft becomes an issue, and they anchor up to wait for higher tide through Meyers Narrows.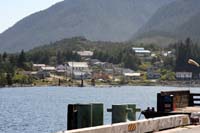 We carry on through, around into Tolmie Channel and then south past Boat Bluff lighthouse to Klemtu

. We later hear that the lightkeeper at Boat Bluff broadcasts free wireless internet service, so boats within a few hundred yards of the lighthouse can check their email through his satellite connection.

The fuel pump is being repaired at the Klemtu fuel dock, so we have a few hours to explore. We chat with some of the locals at the dock, and hear all about the potlatch the week before. Jack and Linnea, whom we had met at Bishop Bay, had invited us to this potlatch, but our weather delays prevented us from getting here on time. The magnificent 'Bighouse' dominates the landscape, and our inquiries about it lead us to the Klemtu Tourism office, where we meet Doug Neasloss, a totally hip and tech savvy young guy. He agrees to give us a tour of the Bighouse and we hop into his brother's van for a quick ride over. Doug brings his new laptop, 2 digital cameras and an Ipod, and we chat about the advantages of Canon "L" series lenses for digital SLRs. Once inside the Bighouse things change, and he's full of stories and legends and history.

We talk about the modern Haida canoe Lootaas and its stop here on its way north. Frank Russ at Tanu had told us that when they stopped here at Klemtu and backed Lootas in, as is the custom when you come in friendship, one of the Klemtu matriarchs began to cry - she said she had never in all her life heard of a Haida canoe coming in peace. Doug was interested to hear that, but he has other stories to tell too, and he entertains us for an hour or more. We head back to the Klemtu Tourism office where he shows us pictures of white Spirit Bears with him in the picture just a few yards away. Absolutely incredible. He tells us about the watchmen, including one at Bay of Plenty that we hadn't known about, and one at Fisher Point in Seaforth Channel that was already on our list. These are small (about 10 feet) carved cedar poles erected to watch over special places. And about the old Bighouse still standing on Princess Royal Island. We have a very enjoyable afternoon, but it's time to leave or we won't make our anchorage before dark.

Finlayson Channel has some big swells rolling up from Milbanke Sound, and we get them right square on the side as we head across to Jackson Passage. Soon we're in quiet water inside and we head on through Jackson Narrows to a very restful night in Rescue Bay.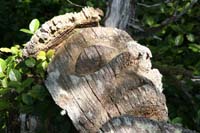 There are seven cruising boats here - the same number we saw in 14 days in Gwaii Haanas. I speculate that they all have similar stories to tell about their summer journeys. We get underway nine-ish the next morning and enjoy a smooth run down Mathieson Channel. Milbanke looks so quiet when we get to Perceval Narrows that we stay in Mathieson, rather than taking the more protected Reid Passage route, so we can see Ivory Island lighthouse. We anticipate anchoring in Mouat Cove, just a few miles away, so we call the lighthouse on 82A, and get an enthusiastic response from Brent, the head lightkeeper. We go close around Fisher Point, trying hard to see the watchmen reported to be there, but no luck. On into Berry Inlet, reading all about Mouat Cove as we go. We pull the dinghy in as we get to the entrance and - what the…!! - there's a big floating sport fishing lodge dominating the cozy little anchorage, with a big genset and lights that are all on in the middle of the day. Wondering how they handle their sewage, and disappointed, we press on another mile to the head of Berry Inlet where we surprise a black bear turning rocks over on the beach. First bear sighting of the trip!

By the time we get settled in, the afternoon westerly has come up, and there's no way we can make it back to Ivory Island in the dinghy, so we hop out at Fisher Point and scramble up to the watchmen.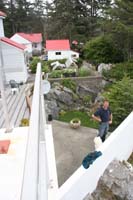 One is still standing, the other has laid down in a bed of salal. We marvel again about how different things were here just a few decades ago - less than the time it takes for a cedar log to rot away. What will it be like here a hundred years from now? Uncomfortable with where that thought takes us, we clamber back down and into the dinghy and comb the beaches just west of Fisher Point.

Cloud cover the next morning promises an extended calm (by delaying the convection winds), so we head out in the dinghy for the 4 mile run to Ivory Island. We head to the back (north side) of the island and tie the dinghy along a rock face, hoping it doesn't hang up in the falling tide. We find the boardwalk and start off, still unable to reach Brent on the VHF. The boardwalk is as treacherous as we've heard and we're stepping very carefully, eyes down. Finally we raise Brent and he warns us again about the boardwalk and then says "Oh, by the way, I saw a cougar there last night".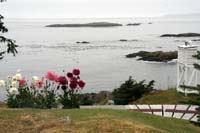 Now our attention is very focused, and I pick up a club-sized chunk of driftwood, but the traverse is lovely and uneventful, and before long we're at the helipad looking over the footbridge to the tended grounds of the lighthouse.

Brent is energetic and proud of his station, and he gives us an enthusiastic tour. His wife Sylvia, normally the assistant lightkeeper here, is over on McInnes Island providing vaction relief, but we admire her gardens in her absence. We're tempted to snatch the artichokes - imagine, artichokes on the stalk at a central coast lighthouse - but good sense, aka Cheryl, prevails and we settle for coffee and cookies instead.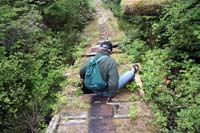 Brent tells us that the "de-manning" of the lighthouses that took place a few years ago has stopped and that now one problem is suddenly not enough lightkeepers. Many stations have satellite setups for television and internet, though the keepers have to provide this service themselves. He tells us about the keeper at Boat Bluff, who has set up a wireless network so that passing boats can check their email, and he kindly lets us give our email a quick check. We notice the sky start to brighten and the westerly starts to stir a bit, so we head out back across the boardwalk. About a hundred yards in a plank gives way under my foot, and I find myself up to my crotch, grateful that I hadn't been backing away from a cougar.

Next Chapter