ur eastbound crossing of Hecate Strait proves to be one of the most relaxing segments of the trip.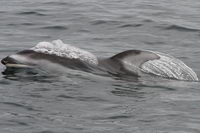 The forecast is for NW 10-15 with seas near one metre, but North Hecate buoy is reporting NW4 and seas of 0.2 metres - 7 inches, so off we go - you have to go when you have the weather - we would have liked one more day in QCC.

The roughest weather we encounter the whole way across is right in Skidegate Channel where it's about 10 knots. Cheryl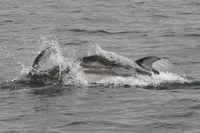 paints and I work on the web page as we motor through glassy or rippled seas. We've heard horror stories about the crab floats getting into props and stabilizers, especially floats held just under the surface by current, so we've altered course to the south a bit to try to avoid the bulk of them - there are somewhere between 50,000 and 100,000 crab traps in Hecate Strait. As it turns out, we only see half a dozen strings - they must all be further north. Once we're past the dropoff, we angle up toward Larsen Harbour and Bonilla Island grows larger as we go.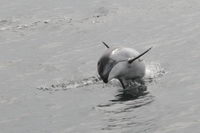 Way off in the distance I see some leaps and splashes, so I alter course a bit toward Bonilla, and 40 minutes later - 5 miles - we find ourselves surrounded by a few hundred Pacific white-sided dolphins. Some head straight for our boat, others run parallel to us, others off in the distance are leaping way out of the water, 12 or 15 feet high.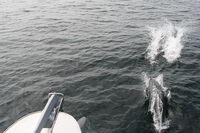 I slow down to about 6 knots, and they ride effortlessly in the bow wave, rolling from side to side, looking up at us. Their exuberance is infectious, and we find ourselves hollering out and laughing as they perform their acrobatics. We get endless photos of splashes where a dolphin had just been, and we fill a 1GB memory card, hoping there are some decent shots.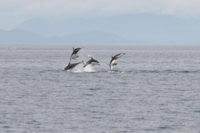 Finally we break off and resume our course toward Larsen Harbour, reading in David Spalding's Whales of the West Coast that Pacific white-sided dolphins are 7 to 8 feet in length, weigh 200-300 pounds and are encountered in groups of a few individuals to more than 1000. He also says that you can often identify them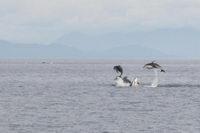 from a distance by their antics before you can see any field marks. Indeed. Our melancholy at leaving Haida Gwaii has been replaced by an overwhelming sense of good fortune.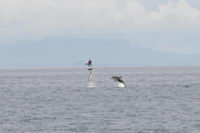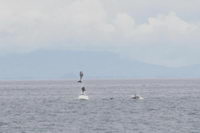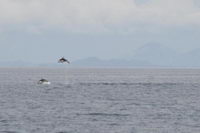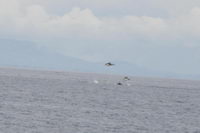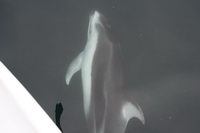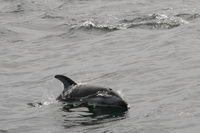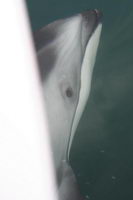 Next Chapter