ith Burnaby Narrows behind us, and only a few miles to travel to charge the batteries, we do some sightseeing through Island Bay, which is funnelling the same strong westerlies as Bag Harbour. This would be a good base for visiting the narrows from the north side. Then over to Section Cove, which is completely protected from these strong westerlies - we would later hear there is good spring salmon fishing nearby, but on this day we carry on north and then around into Matheson Inlet for a tour, eventually dropping the hook in what the Douglasses call Hutton Island Cove

, the unnamed bay southwest of Hutton Island.

Our plan is to meet my daughter Faye, her husband Kerry and grandson Jordie on Sunday, two days away, either at Hotsprings Island if the weather's good, or in Kostan Inlet if not. We settle in for a beautiful sunset and another quiet night alone in an incredibly beautiful anchorage.

Next morning I watch through the binoculars as a bald eagle plunges into the cove for a fish. He struggles with it for a minute, can't get airborne, it's too heavy. We've all heard the stories of eagles getting pulled under to drown by large spring salmon and I hope I'm not about to see that. Gradually he seems to get the upper hand, and his balance, and he starts swimming toward shore with his powerful wings - the 'wingstroke'.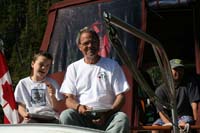 It doesn't take long before he drags what appears to be about a 5 pound salmon up on the rocks. Cheryl and I go to work on a boat project and everytime we look up the eagle, his/her mate and a juvenile are all around the fish.

Later that day we lift the anchor and head out for the water float in Hoya Passage

. On the way we hear Kerry calling on the VHF - they've left a day earlier than our schedule, and are hoping to find us. We arrange to meet at the water float and carry on, arriving a couple of hours later. We interrupt the reverie of two kayakers, who are making use of the only dock in Gwaii Haanas for a game of cribbage. The float is 100' or so long and has several hoses running continuously. It looks like it's maintained by whoever has some pipe and connectors when needed, and it's working wonderfully this day. We talked to quite a few people about this water, and the remarks ranged from "I've been drinking it untreated for 10 years" to "I wouldn't touch it without purifying it first" - we decide to add a teaspoon of bleach for every 100 litres of water, a ratio Dr. Beth of Splinter's Apprentice had given us (Clorox recommends 1 tsp/10 US gallons, more than double what we used). We also have bottled water for the especially sensitive among us. We fill the tanks and rinse the salt off the boat and grab the lines of Faye and Kerry's boat when they arrive. Much later in the evening, the converted troller Victoria Rose arrives with a crew from a stream restoration project nearby - some of them know Faye and Kerry, so we socialize while they all have showers, then we exchange boat tours, and plumb Leandre, the skipper, for fishing info.

The next morning dawns sunny and as warm as we've been so far, and we enjoy breakfast on the dock, marveling at the anemones and other intertidal creatures waving their entrapment fans along the side of the dock.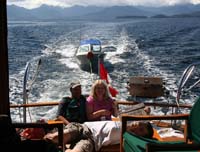 Eventually we get ourselves under way, towing Kerry's boat with our dinghy bringing up the rear. We head for Ramsay Island Cove and the hot springs, cutting through the Bischof Islands on the way. We're running slow, often on just a single engine, to conserve fuel. We get tied up in time for John and Kerry to catch a few rockfish for dinner, and for Faye and Cheryl to do some beachcombing. After dark we build a small fire on the beach and make s'mores.

The tide's falling the next morning as we're about to head over to Hotsprings, so when I call on the VHF, I check if we can use their 'clothesline'. A 'clothesline' in boat jargon refers to the method used by all the watchmen and others in Gwaii Haanas to keep their boats in deep water, and accessible, through all stages of the tide, without having a dock.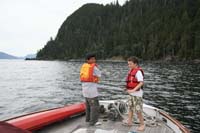 It's essentially an endless loop of rope with one end tied to shore and the other anchored out or tied to an offshore rock. Neil Frazer, author of Boat Camping Haida Gwaii, details the technique in three articles in Pacific Yachting in July, August and September 2004.

We maneouver Kerry's boat around the reefs in front of Hotspings and thread our way into their clothesline, hooking up right next to their skiff. Al comes down to give a hand and soon we're up on the deck with Jordie and Josh renewing their acquaintance. This watchmen crew, Gladys and Al VanDal, along with Josh and Leah, keep the site immaculate - the pools are sparkling clean and the change and shower facilities are always tidy. We chat for a while, then make plans to take Josh out fishing with us for the afternoon. Fishing is successful, and we have enough halibut, snapper and quillback for a couple of nights dinners for both households. It's a bit rough from the west when I drop Josh back off on the beach in front of Hotsprings - I have to make a small surf landing with the dinghy. Al says to Josh - "Where's your hoodie?" Oops. Back I go to the boat and back again to try another surf landing.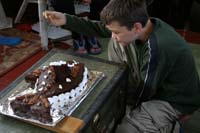 We spend the next few days doing a lap around Juan Perez Sound. First night is in Matheson Inlet

. The next day is Faye's birthday and I volunteer to beachcomb with her while Kerry chases the elusive spring salmon and Cheryl and Jordie paint. At least that's what they told Faye - they actually were building the fantastic fish cake. Faye and I spend hours swatting mosquitoes in the tree line amongst driftwood hunting for the increasingly hard-to-find glass floats. At one point we've exhausted one beach and try to clamber around the rocky shore to the next, but it proves impassable. It's less than 1/4 mile as the crow flies, so we head cross country following deer (bear?) trails making lots of noise. Right at the top of our traverse I find a live abalone at the base of a tree. It's 150 yards from the ocean in any direction and some critter has abandoned his catch here - I pick it up and transport it down to our next beach, feeling very much like an 'anti-poacher'.

Toward the end of the day, the boat train meanders off clockwise around Juan Perez Sound, taking shelter for the night in a narrow passage south of Marco Island

We eat fish and birthday cake and watch the fog swirling out of Hutton Inlet, pushed by the cold westerly wind, which seems stronger further up the inlet. The next day we all split up - Cheryl kayaks out to paint, Faye and Kerry take Jordie to a sunny beach out of the wind, and I stay on board to tackle a boat problem. It doesn't take long, and soon I'm off in the other kayak to find Cheryl.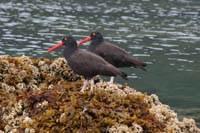 Later on we continue our recent pattern of traveling for a couple of hours toward the end of the day, arriving at our last family anchorage, De La Beche Cove

.

This scenic little cove is almost completely landlocked, with two very narrow entrances. Both the Douglasses and Tom Ellison said that only the eastern entrance was usable for medium and larger boats, and that looks almost too narrow as we slide in. We enjoy our last night with Faye's family, and say goodbye in the morning with that mix of sadness and relief that always accompanies the departure of guests from the boat. Cheryl and I take off in the dinghy through the other entrance and explore Skittagetan Lagoon, where we enounter the oystercatchers in the photo, and Sac Bay, which friends had used as a base camp for a hike to the top of the San Cristovals, some 2000' up.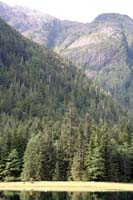 After a stop at the water float in Hoya Passage, we head up Darwin Sound and around into Anna Inlet. We strain to see any remains of the old mining town of Lockeport, but can't see even a hint. Anna Inlet is tranquil and majestic. A narrow entrance opens up a bit to a long inlet lying southwest to northeast, surrounded by granite ridges that soar 2500' or more. The tranquility is deceptive though, as we recall the story told to us by one cruiser whose wind gauge recorded 50 knots in here in a southeast blow.

The weather forecast the next morning has strong to gale force southeast winds in the outlook period (the 'outlook period' is from 24 to 48 hours after the time of the forecast), so Cheryl and I contemplate our options. Still on our list are Tanu,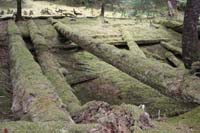 Cumshewa and Louise Narrows, and a distance of 55 to 75 miles, depending which way we go around Louise Island, to get to Sandspit for fuel and shelter. We head for Tanu, leaving Cumshewa for a later possiblity if time and weather allow, and Louise Narrows for another trip.

Of all the sites we visit on our journey, Tanu

is perhaps the most stirring. We anchor off on the shelf outside the southern end of the village and take the dinghy in. The watchman is handling his skiff at the clothesline, and he holds out his hand, "Hi. I'm Frank".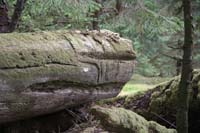 He helps us hook our dinghy up to his line, and introduces us to the two young kayakers who will be joining us in our tour.

Frank is knowledgeable, intelligent and passionate in his presentation of Tanu. He believes in the future of Haida culture, and expresses gratitude to Bill Reid for all that he had done to further that cause. Frank paddled Lootaas on both epic journeys, up the Seine from the sea to Paris, and the 600 mile voyage from Vancouver to Skidegate. In Tanu today there are no longer any standing totems, but the house sites are noble and grand, and the setting is magnificent, and perhaps it's the absence of the monuments that stirs our imagination so much.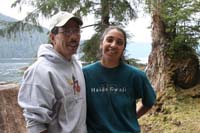 We finish our tour and then Frank says "We don't usually take people here, but I know of your connection to Bill", and he takes us out to the point overlooking the village where Miles Richardson and Bill Reid are laid to rest. Bill's tombstone is a modest marble slab with an engraved wolf head and his Haida name, Iljuwas Yalth Sgwansang. We linger with Frank and Denise for a few minutes and look at Frank's carvings and some of the beads that Denise has collected. Their three handsome children are all around and we can't help but think how lucky they are to have this connection to their past and to be able to spend time here as a family.

Silver bright chum salmon have just shown up in the bay in front of Tanu, and we're tempted to stay, but the forecast weighs on our minds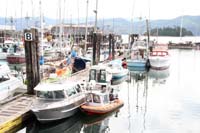 and we lift the anchor and head out north. Again the Hecate is quiet for us, but the forecast says this will be the last quiet day for a while, southeast winds building tomorrow. We work our way north, past Skedans village and across the entrance to Cumshewa Inlet, hoping we can get back to Cushewa one day. We eventually cross the spit 2 miles south of buoy C19, at about the 1.6 metre line on the charts. This is a mile or so further south than our outbound leg, but we're on a rising tide with lots of water, and the crosssing is uneventful.

There are a couple of large commercial crab boats in Sandspit Marina, one noisily loading traps - it turns out the crab fishery in Hecate Strait has just re-opened today after a multi-week closure for the annual moult. Cheryl heads for the payphone to check in and I wander off to chat with the crab guys. I learn there are 49 crab licenses in the Hecate, and that each boat fishes from 600 - 2000 traps, and that the catch has actually been increasing over the last few years. What an anomaly in commercial fishing - they're doing their best to fish it out, but they're unable to keep up and the target is multiplying. For now, at least, it's a rough and ready life and a good living for the 3 crew and the skipper of this boat. They fish the Hecate from March to November, and I hear some harrowing stories about extreme weather. They're in a rush now to get their gear out - it takes them three trips to set all the traps - once set, they haul and rebait in a continuous cycle - when the boat's full, they head to Rupert to unload and reprovision. I was worried the trap-loading would go all night, but it turns out they need 1/2 tide or higher for their crane to work, so they're just about done for the night.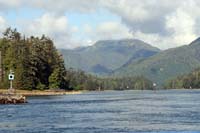 In the morning we refuel and head off to Queen Charlotte. Our fuel economy had paid off, as our tanks are still about 1/3 full before refueling. We intend to stay a few days at least in Charlotte, which means we'll need power, so we cruise into the Government Dock

and look for a good raft-up spot. It's very rare to find a spot at any public dock for a boat our size, but rafting up is expected, and we soon spot a likely-looking troller that looks like it hasn't moved much lately. Soon we have the lines on and the power hooked up, and we notice a rusty ex-commercial boat of some kind just behind us called Wanderlust that somehow makes us feel right at home.

We end up spending almost a week here doing some car touring, a little bit of work over the internet, and spending some time with Jordie while Kerry and Faye are at work. One weekend day, Kerry and I head out to the west coast in Quillback for a day of fishing.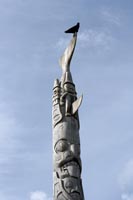 Skidegate Narrows, the stretch of water between Graham and Moresby Islands, has two treacherous shallow reaches marked with channel markers and range markers. Somehow they've managed to get the port and starboard hand markers exactly the opposite of what you'd expect. The rule is 'red right returning', meaning you keep the red markers on your right hand as you return to port. There's definitely not a port to the west of Charlotte, but you'll be on the sand if you don't keep the red markers to starboard as you head out to the open Pacific, and the reverse on the way back. Kerry tells me the story of a 40' Sea Ray from Alaska who found out the hard way. Every day a dozen or more local small fishing boats, both private and charter, roar out and back at 25 knots, which adds to the confusion for a first-time passage. It's something you want to do with lots of water under you, and some local help if possible, but the markers are good. Kerry and I can't make much of a dent in the salmon population, but we do come home with a Spring salmon for dinner and the freezer, and a 'big halibut that got away' story.

In the evenings on Sovereign, Cheryl and I reflect a bit on our trip through Gwaii Haanas. In 14 days of cruising, we saw just 7 other cruising boats. There were several charter boats, and a small number of kayakers, but in general we were surprised at how few boats and people were there. All the other cruisers were sailboats - 2 from England, 1 from France, 1 from Maryland, 1 from Washington and 2 from B.C. All of them were working south to Rose Harbour, and then heading across to Port Hardy or Port McNeill from there. One drawback to that itinerary is that as soon as you get part way south you start looking for a weather window for the crossing, and often it comes before you've seen much of what Gwaii Haanas has to offer. Tom Ellison told us that very few cruisers do the trip the way we did, and that 5 or 6 days in the park would be more typical. Cheryl and I feel lucky to have been able to savour so much time here, and we're feeling a bit blue that our next leg starts the trip home.

Next Chapter