e idle out of Rose Harbour late in the morning after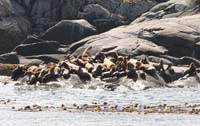 a quick visit to Susan's, heading for our full moon date with Burnaby Narrows. The Hecate is still behaving and we fish for a bit hoping for a halibut dinner, but perfectly happy with the quillback we catch. Cheryl hooks a big ling and gets it right to the boat before it shakes off and swims away. There's a large group of Stellar Sea Lions at Garcin Rocks - they eye us carefully but seem mostly unconcerned as we cruise by for a photo.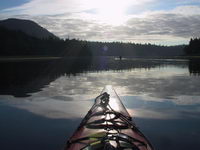 We had almost pulled into Ikeda Cove

on the way down to Rose Harbour, so we decide to make a short day of it today and head in through a sloppy mix of opposing swells. This area has mining history, some of which is still evident in the massive cut and overburden pile at the top of the ridge, and we enjoy poking around the old camp. Some of the old jars are half buried in the mossy forest floor and have become miniature terrariums with little enclosed ecosystems inside. We search in vain for the marble tombstones of the Japanese miners shown in the photo in the Douglass book, but we do encounter Bernard and Marie-Claude from AY, and son Pierre who is much looking forward to meeting the french-speaking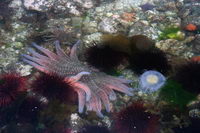 pre-teens at Patrick and Mary's in Rose Harbour. Ikeda Cove is comfy enough for us on this day, but westerly winds can be vicious in the cove, and southeasterlies can close off the entrance, trapping you inside. The next morning we motor slowly toward Bag Harbour, running on a single engine to get maximum battery charging per mile traveled.

Bag Harbour

is a large and accomodating anchorage just south of the narrows called 'Dolomite Narrows' on the chart, but known locally as Burnaby Narrows. Burnaby Narrows is the fabled spot reported to contain higher concentrations of marine life per square meter that any other place in the world. Tonight there's just one other boat in Bag Harbour, and it turns out to be Splinter's Apprentice from Plymouth, England, with Beth and Bone aboard. We enjoyed their hospitality one night in Sandspit waiting for weather to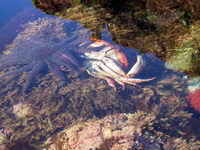 come south, so tonight it's our turn to reciprocate, and we all enjoy a very pleasant evening sharing stories of where we've been.

Low tide the next morning is a 0.3 foot low at Bella Bella at about 8:15am, so we're in the kayaks about 7:30. We round the corner into Burnaby Strait, and almost immediately we see what all the fuss is about.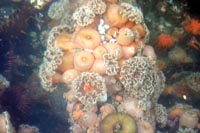 The abundance of intertidal life is stunning, with urchins and anemones and starfish of all kinds, both above and below the surface. There's broken cloud cover, so we get some sunshine right into the water. I begin to regret my insistance on leaving the Digital Rebel on the boat in favour of the older, thus more expendable, Canon G1. Cheryl shoots photos for a while, then I take a turn. Later on we see that we have near-duplicates of several shots. Suddenly we realize that the tide has turned and we're still a hundred yards or more from the actual narrows. We move north, then dogleg east toward the first set of range markers, where we spot 4 juvenile sandhill cranes poking around in the tidal flats. They're very shy and without a telephoto our pictures of them are very distant.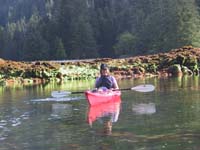 We glide left around the first curve in the range-marker path, noting how close we'll be able to go to the eastern shore in Sovereign. This short leg gets us into serious bat star territory. The water now is a uniform depth of about a foot, and we're transfixed by the myriad of colours the bat stars display. Then the course bends north again for a longer run, all excellent bat star viewing. Going north, the course seems more forgiving to error on the west side than the jagged rocks on the east side. At the end of this leg the channel is still dry and clams are squirting everywhere.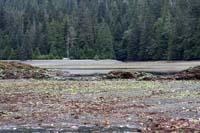 We can look to the northeast and see 'The Jaws', the opening between a reef extending from the southeast point of land and a large rock about 15 feet away. I make a mental note to be exactly on the range markers here, even though with our depth we should be higher than the mid-channel rock by a few feet. We poke around for a few minutes while the tide races in from both ends of the narrows, and soon we can paddle through. The Jaws are the last danger on a northbound transit of the narrows, and as we paddle through the Ocean Light II comes into view anchored north of the narrows. Altogether there are 12 or 14 people exploring here today, surprisingly few for a sunny morning with the second lowest tide of the summer.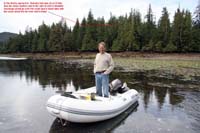 Some writers and cruisers have expressed complete indifference to Burnaby Narrows - others rate it close to the top of their Haida Gwaii experience. I'm convinced it all has to do with how low the tide is when you're here. If you can pick your times, get as close to the spring tides around the full moon as you can. And get here an hour or so before low tide - on this day, a perfect viewing day, we encountered kayakers who arrived 60 minutes after low water (which occurs 36 minutes after Bella Bella in the tide book), and they wondered why they weren't seeing much.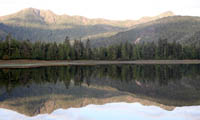 Cheryl and I drift back south through the narrows, still current from both ends, but nearly 2 feet higher than perhaps an hour before. Suddenly a twin-engine plane flies low over us, circles and comes back again. We crack jokes about "the quick tour" and "on your left Burnaby Narrows, on your right the San Cristovals" and so on, and paddle leisurely back to Sovereign. Splinter's Apprentice had left while we were in the narrows and we had Bag Harbour all to ourselves when suddenly a big orange Coast Guard zodiac roars around the corner at what looked to be about 40 knots. They head straight at us at full speed, slowing down at the last minute as they come alongside and say "We're coming aboard for a fisheries inspection". Then we notice sidearms and vests and realize that the plane we'd seen earlier had spotted us at low tide and called this abalone anti-poaching team in for an inspection. It's a bit ironic that they're checking Cheryl and I, whose fishing skills are less than fearsome, but they go through the fridge and cooler, and check our traps and licenses, and quickly become very friendly. It's the first time I've been checked by Fisheries in 25 years, and we actually feel good that they're out here. The self-righteousness of the innocent I suppose.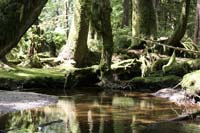 Later that day we take the dinghy through the narrows at what should be high slack to get a sense of the currents. We're both surprised at the strength of the southbound current - it's at least 1 knot, maybe a little more. We run the markers and make some notes about the currents at the turning points. It would be more difficult heading southbound, especially at the southern end of the north-south leg where the current would be setting you right on the large underwater reef.

We return to the narrows the next morning in the dinghy, armed with the Digital Rebel, the image stabilized zoom and polarizing filter, but there's less sun than yesterday and we end up using shots from both days. The westerly picks up as we had back to Bag Harbour, blowing about 20 knots in the anchorage. We decide to try the trail up the creek at the southwest corner, and it turns out be a beautiful, but short, walk through a classic Haida Gwaii old growth forest. Thick moss, big cedars and many pink salmon parts from long-ago bear feasts. Cheryl notes that if she were kayaking, she'd be here having a bath.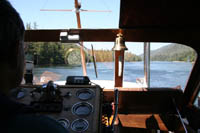 High slack is an hour or so away, and we've decided to go through Burnaby Narrows today. The wind's about 25 knots as we lift anchor and idle out of Bag Harbour, hoping the wind won't be as strong in the narrows. We make securitÚ calls on channel 16 and on channel 6 (note for non-boaters: the narrows aren't wide enough for 2 boats to pass, and you can't see one end from the other, so we make a radio call announcing our intentions and asking for any concerned vessels to answer back). Cheryl and I go over our roles - John at the controls looking at the range markers ahead, Cheryl at the stern watching the range markers behind and calling out "left" or "right" if the top (rear) marker isn't exactly lined up. The same nervous anticipation we felt before Cape Caution and crossing the Hecate is raising our heart rates. We remember the stories we've read of boats going on these reefs, including one big old wooden boat that was a total loss. The chart in the Douglass book is essential, and the book is wedged open to that page.

It's time. I push the throttles forward to 1500, giving us about 5 knots of speed (4 knots over the ground in this current). We head north mid-channel, then angle about 45║ to starboard on to the first range markers. It's a short leg, go close to the east shore, then a 90║ turn to port - no markers ahead on this one, but I had a mark on a tree from yesterday, and Cheryl has markers behind. Bend to starboard for the long north-south leg - no rear markers for this one, so Cheryl snaps a few photos. I remember if you have to err on this leg, err to the west. Wait, wait for the last markers to starboard to almost line up, then crank it quickly. This leg takes us over the jaws and we want to be perfect, even if we have enough water under us. The current wants to push us off the line to the south, so we angle slightly north to compensate. Mid-channel arrives and we bend to port to the north and it's over, we're through.

Next Chapter