e slip the mooring in Rose Harbour

and head west out Houston Stewart Channel, filled with anticipation and excitement. Again we're against the tide, but it doesn't last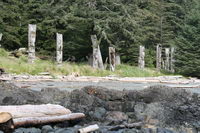 long as we turn south and then west and catch our first glimpse of SGang Gwaay, shown on the charts as 'Anthony Island'.
The westerly is strong again this morning, 20 knots or more already, but there's some protection from the island. The seas are whitecapped but not large as we head south past the island in front of the village site and around into
Gray`s Cove

. The Visitor's Handbook from Gwaii Haanas suggests anchoring in the cove on the north end of the island, but the bottom is rocky and in these conditions you wouldn't be able to leave the boat there safely. Even here in Gray's Cove the surge makes it lumpy and the breeze comes through with some bite.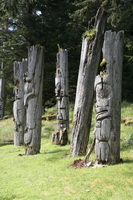 We get the anchor down and call for permission to come ashore. The watchmen quickly answer, "It's good, come on in". A couple of minutes walk from the landing beach gives us our first look at the village site. Nothing can really prepare you for that first look - we had seen many photographs and drawings and videos, had read the books and seen poles in UBC Museum of Anthropology taken from here and still that first look takes our breath away. We walk down on the beach and approach the poles - no one else is there and the morning sun is starting to filter through the marine cloud. The figures on the monuments seem to come alive, even as decayed as they are, and we spend some time lost in the wonder of the art and the legends. Uniquely creative and symbolic, and embedded in the fabric of day-to-day life, the art is magnificent. We imagine what it might have been like with the houses intact and the frontal poles still standing.

Then we remember the watchmen and shake ourselves loose from our reverie to find the trail to their cabin. We meet Daniel, a young Haida from Skidegate who tells us he loves being at SGang Gwaay and that he's now logged over 200 days here. He gives us copies of the SGang Gwaay Exploration Guide and stamps our passports, and shows us the other, shorter, trail back to the village site. Still no other visitors, we explore the village site in detail.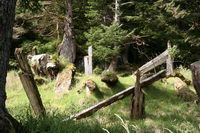 It's said that the Haida have occupied Haida Gwaii for 10,000 years, and that the history of SGang Gwaay extends back at least 2,000 years, perhaps much longer. As many as 6,000 Haida lived in these islands pre-contact, perhaps 300 or so in SGang Gwaay. This village is the only remaining example of a traditional North Coast First Nations village with house sites and standing poles. In the 100 years between 1790 and 1890, smallpox and other introduced diseases decimated the Haida population, cutting it to 500 souls. All of the villages except Skidegate and Masset were abandoned, leaving houses and monuments to the weather, and the bodies of the dead in caves, in mortuary poles, and in the ground.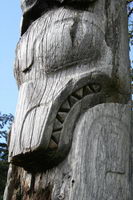 On the marine charts it's shown as Anthony Island

, but around the Charlottes now both the island and the village are called SGang Gwaay - pronounced "Skung GWhy". For a couple of hundred years, the village used to be known as Ninstints, or Nan Sdins, after the name of its Chief, but the more proper English representation would be SGang Gwaay llnagaay. In 1981 the island was declared a World Heritage Site by UNESCO, the United Nations Education and Science Organization in recognition of the importance of this site to the global community.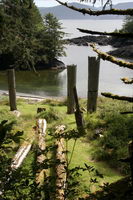 I remember the boat in it's tenuous anchorage in Gray's Cove, and walk over to check. It's fine, and still no sign of any other visitors. We walk the trail across the island to the cove on the north shore, then work our way around the shore to the cave. Less noble Haida were interred here, and in many other locations around the island. Shameful looting of these sites occurred for decades, with people scattering bones to take the bentwood cedar boxes. And the conundrum of the anthropologists, museums and universities - do you remove the monuments in an attempt to preserve them and share them with large numbers of people, or do you leave them in their original setting to be absorbed back into the land? At this moment, we were glad that both approaches had been followed. The Haida, politcally astute, have taken control of their cultural artifacts, and have been involved in a massive repatriation of human remains and cultural artifacts from universities and museums worldwide.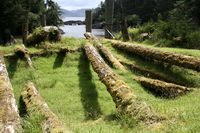 Heading back across the island, we come down into the village site one last time. Still no other visitors, just young Breezy and her mother from the watchmen's cabin down on the beach. We chat for a bit, turns out Breezy knows Jordie - they're also in the same grade in school. We spend a last few minutes among the poles, then walk the short trail over to Gray's Cove. Our dinghy is high and dry, but Götz is there with a group having lunch, and a couple of strong young guys give us a hand to get it back in the water. Reluctant to leave, we eat some lunch on Sovereign's deck, soaking up every last bit of our time on the island. Finally we lift anchor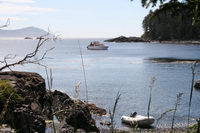 and head out toward Louscoone Inlet. The winds are strong, 25+ knots, and they seem to persist right up Louscoone, so we change plans and head back to Rose Harbour. We call Susan, 'Oldsquaw' on channel 6, and confirm that we'll be coming for dinner.

The old whaling station in Rose Harbour is the only privately owned land within the Gwaii Haanas National Park Reserve. Owned collectively by a small number of shareholders, there are 3 households here. Two of them, Götz Hanisch' Rose Harbour Guest House and Patrick and Mary Lemaire's Gwaii Haanas Guest House, offer guest accomodations and kayak and inflatable tours.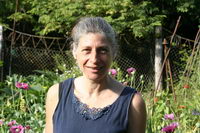 The third house, right in the middle, belongs to Susan Cohen. She provides meals for Götz and his guests, and for anyone else she can squeeze in - kayakers, cruising boaters and charter boat guests. On this night, we join a big extended family from Victoria, BC. We meet the two strong fellows that helped us with our dinghy at SGang Gwaay, and then meet their parents and children. Dinner is freshly caught ling cod, quillback and snapper in a Moroccan-style sauce with vegetables, rice with a banana curry sauce, a big garden salad and a shortbread crust with ground almonds topped with fresh raspberries with whipped cream for dessert.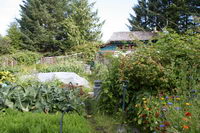 Tom Ellison arrives after dinner and a bunch of us talk in Susan's kitchen. Tom makes the point that this kitchen is the heart and soul of the South Moresby community and everyone nods in satiated agreement.

There have been some published reports of problems between Parks Canada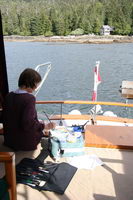 and the Rose Harbour residents, but tonight we don't see any evidence of that. Götz had recently received a settlement cheque for his false arrest lawsuit, which could have been settled right at the outset with an apology, and for the moment all seems well, at least to an outside visitor. It seems to me that these three households provide an invaluable service to park visitors, and that they add immensely to people's experience of Gwaii Hanaas. I think Parks Canada should be actively supporting them rather than trying so desperately to undermine them.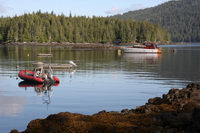 After dinner we listen to Götz play some of his hauntingly lovely compositions on guitar, then we walk around the grounds a bit. The residents have incorporated lots of bits from the whaling station into their lives - a metal-plated walkway in the garden, some old pieces in the shower water heater, etc. Almost as though it were an offering of apology to the whales slaughtered here years before. That afternoon we had all seen humpbacks lunge feeding at the east entrance to Houston Stewart Channel, and it seems that at least one aspect of how we deal with our environment is improving.

Next Chapter