s we round the breakwater to the dock at Queen Charlotte, we see Faye waving. We come close and chat for a minute, look over the docks crowded with all kinds of boats, and opt for the anchorage. It's right in front of their house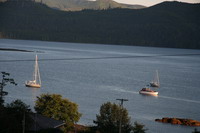 and we can look down on Sovereign from their dinner table.

'Charlotte' is very much a town in transition. The glory days of logging and fishing are gone, replaced by multinational logging companies, transient fishing lodges and public service jobs. Some say good riddance to the logging, and the massive clear cuts that dominate Graham Island and northern parts of Moresby and Lyell Islands - fair enough, but the local economy is struggling to find replacements.

- rant starts, feel free to skip -
And just as aquaculture has become the scourge of the southern B.C. coast, transient fishing lodges have become the scourge of the north coast. On the Charlottes, these lodges take as many fish per year as the trolling fleet used to take while contributing a tiny fraction back to the local communities, mostly just a few guide jobs for young guys. Senior jobs, supplies and profits all are in Vancouver or Seattle. And the fish have nowhere to hide - small boats from the lodges cover the entire north and west coast of the Charlottes - the east coast is already fished out, witness the abandoned lodge in Pacofi Bay. The clients are virtually all men who fly in from around the world - they could be anywhere, Charlottes, Nova Scotia, the moon, as long as there's lots to eat and drink and fish to catch. Most of them get zero cultural experience and it all happens with essentially no benefit to the local economy. More than that, the quantities of fish taken are staggering, unsustainable and virtually unregulated. It's just a few years til the fishery here will be like all the former fisheries down the coast - Horseshoe Bay, Comox, Pender Harbour, Campbell River, Barkley Sound - a memory and some photographs. Yep, they used to get some really big springs around here.
- rant ends -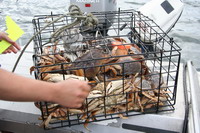 Charlotte is a wonderful place for young families. Everyone knows everyone and looks out for the kids. Grandson Jordie goes to school in the village at Skidegate, half his classmates are Haida, and Haida language is part of the curriculum. I go to the store with Jordie and the clerk says "Hi Jordie, is this your granddad? I heard he was coming to visit." It's the ultimate small town, welcoming and safe, and full of characters who've found their way here for whatever reason.

We all go to the Visitor Information Centre for our required orientation session which is surprisingly interesting. We each receive a small book packed with useful information about the park. At the back are spaces for passport-like stamps from each of the sites one visits. We struggle a bit with the reservation system Gwaii Hanaas is using, which is operated by a contract operator - the weather delays have made us a week late for the reservation we made back in March. It takes a 30 minute phone call to Victoria, and a $12 'change your reservation' charge, to change the reservations but in the end all is well, and we're legal.

After the second night anchored in Bearskin Bay, the forecast is calling for yet another SE gale. I recall one account of a cruising boat doing an all-night anchor watch in a SE gale in Bearskin Bay, so we head for the dock at Sandspit, 9 miles away. Sandspit is across Skidegate channel from Charlotte on Moresby Island, accessible by a small car ferry. The airport is here, along with an odd new marina and the only fuel dock south of Masset.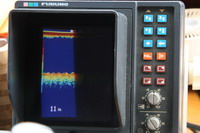 The marina is behind a massive rock breakwater and built with strong concrete floats, but there are no slips big enough for our boat - they're all 40' or less, except for the long outside pier - on that dock, the only power outlets require 50 amp plugs - suitable for mega-yachts - and we don't have an adaptor, and neither does the marina. They have a severe water problem, which other authors have mentioned, that seems to be perpetually a couple of weeks away from being fixed. We have to carry water to our boat with buckets, and it's about 200 yards each way. And the water is only available 7-9 am and 6-9 pm, the same hours as the fuel dock, apparently geared to the charter fishing fleet. It's all managed, and apologized for, by an irrepressibly cheery wharfinger named Kathy, who makes it all seem good.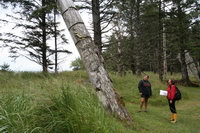 After the second night in Sandspit, with strong SE in the Hecate, the forecast calls for the winds to drop. At 8 am it's blowing 22 SE at Cumshewa, but by 11 it's down to under 10 knots, so we head out. The spit extends 6 miles north from Sandspit, but it's possible for smaller boats to cross earlier, depending on tide and weather. We had intended to go 4 miles north to the 1 fathom line on the charts, but we're in a falling tide now and the swell is large, so we go another mile north before turning east. The leftover lump is impressive, with swells up to 8' or so, but most of them let us down gently. It takes nearly 3 hours to get Sandspit behind us, and then the spectacular vistas of the Moresby Island coastline come into view. We have a decision point at Cumshewa - continue down the outside or turn in to the longer but more protected inside route - the swell has gone down a bit, and the forecast is good for tomorrow on the outside, so we cross the entrance to Cumshewa Inlet and head for Skedans.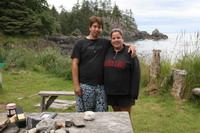 As soon as we step on the beach at Skedans we can feel the presence of the ancients. It's a more powerful experience than we were expecting, and even though the watchmen, when we had called on channel 6 for permission to come ashore, said to come straight through the village to their cabin, we linger around the poles, drawn to the quiet majesty and haunting beauty. 'Girl' gives us each a copy of "Those Born at Koona" to use as she shows us every house site and the remaining poles, beams and posts. She explains to us that the house frontal poles were hollowed out on the back, which made them more susceptible to rot and weather damage, and that's why there are only mortuary, memorial and potlatch poles left - they were carved front and sides and left full round in the back. The mortuary poles had a cavity at the top in which a bentwood cedar box containing the remains was placed. Cedar planks covered the top of the box, held down by rocks. When I lean on what looks to be a downed log for a better camera angle, I get a quick but gentle reminder from Girl to not touch the monuments.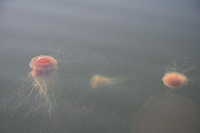 We leave Skedans with some reluctance, but the sun's getting lower and we have a few miles to go to the anchorage still. It's too lumpy to try the anchorage behind Limestone Islands, so we go into Thurston Harbour, which is surprisingly lovely in spite of having been completely logged over the years. There's a huge grassy flat with deer grazing and the highest concentration of enormous red jellyfish, Lion's Mane we think, that we've ever seen. Some tentacles are more than 10 feet long and many are intertwined with others.

The next morning we head out around Heming Head intending to stop at Tanu, but there are already two boats anchoring up in front and it seems busy, so we turn east and head around Nob Rock for Windy Bay. The Hecate is nearly flat calm today, just a small swell and no wind, and the trip down the outside of Lyell Island is lovely. We try to raise the Windy Bay watchmen on the VHF radio with no success - eventually Hotsprings answers and tells us its ok to go on in. We anchor the boat outside in 30 feet and take the dinghy inside the bay. We can't find anyone here, or even a skiff (2 weeks later we found out they had all gone to Tanu for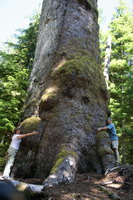 a birthday party), so we give ourselves a self-guided tour.

'Windy Bay' doesn't appear on marine charts - it's the unnamed bay on the NE coast of Lyell Island between Gogit Point and Fuller Point. It was here the Haida took their stand in 1985 to protest logging on Lyell Island - this movement eventually led to the creation of Gwaii Haanas National Park Reserve. The longhouse called 'Looking Around and Blinking House' was built here then to house people involved in the protest. The bay is also the site of an old Haida village, but we couldn't find any traces of that on our own.

We continue down the east side of Lyell outside of House and Hotspring Islands, to Ramsay Island Cove where there are still a couple of public mooring buoys. DFO (Dept. of Fisheries and Oceans, or whatever their current name is now that they're amalgamated with the Coast Guard) have been actively removing buoys from the coast rather than maintaining them - there are still some left in Gwaii Haanas, locations are in the orientation book. We used them here, in Rose Harbour and in Larsen Harbour, after giving them a good pull in reverse, and saw buoys in Shuttle Cove by the water float and in Section Cove just south of Huxley Island. Here in Ramsay Island Cove there's room to anchor inside the buoys also, but it shallows quickly to the beach. We later learn to be wary of this cove in a big NW wind, but conditions are settled this evening and the view out over the Hecate is stunning.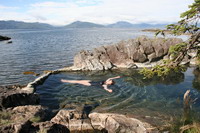 We call Hotsprings, a mile or so away, and get permission to come right over. We land the dinghy on the beach on the back of Hotsprings Island, between Hotspring and House Islands, and walk the shell-lined trail through a beautiful old Haida Gwaii forest to the cabins, where we were welcomed by a whole crew - Al and Gladys VanDal with their grandson Josh, and Sean and Leah. Al was busy preparing cedar bark strips for Gladys to weave into baskets and hats, and they were all getting ready to clean one of the pools later that evening after all the visitors left. Al showed us the change room and the shower room, where he pumped up the showers for us - a hand pump fills an overhead tank with water from the hot springs. We washed and tried all three outdoor pools - the cliff pool is the coolest, and the only one I could actually get all the way into. Cheryl is a much better hot springs person than I am, and was able to get seated in all of them, though I notice she looks pretty pink by the end.

Gladys gives us a showing of some of her work and her portfolios, and we arrange for her to send a small woven bark basket to us at home. We discover that Josh is in the same class at school as grandson Jordie, and Josh is delighted to hear that Jordie will be joining us in a week. We leave with a cedar bark rose woven by Josh and check that it's ok to come again in the morning.

We've just finished our soak the next morning, noticing that a charter boat was anchored up just south of Hotsprings. In the shower room, a deep disembodied voice resonated over the divider, "Are you the people from the old Chris Craft?"
"Yes"
"Did you used to moor next to Fred and Sandra Tremblay?" the voice asked.
Our boat was out of sight, more than a mile away, and we were getting intrigued. "Umm, yes. Who the heck are you??"
"Sorry" the voice said, "I'm Tom Ellison off the Ocean Light II. I bought my first charter boat, the Compass Rose, from the Tremblays. Tell me about Fred".

Tom came out, we shook hands, and caught him up on Fred's illness, his passing, and Sandra. This is Tom's 26th year running charters in Haida Gwaii, his 30th year in the charter business, and he's a wealth of information - his wisdom for today was "take the weather when you get it" and, more importantly, "don't miss dinner at Susan's".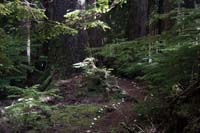 He was also busy on his sat phone trying to track down missing luggage for one of his passengers, who was doing the trip with what she had in her carry-on. We encounter Tom and Jenn and the Ocean Light II a few more times over the next few days, and are completely impressed with their knowledge and their enthusiasm for finding the ultimate experience for their guests. Hmmm, maybe we can charter the boat for a Haida Gwaii painting workshop…

The forecast for the Hecate today was for light winds and low swell, so following Tom's advice, we decide to head for Rose Harbour, leaving Ramsay Island around noon. We instinctively turned west, inland, to skirt around Ramsay Island and head out Juan Perez Sound, and it was there that we first experienced the icy cold west winds that pour over the ridges of the San Cristovals and out every inlet on the east side of South Moresby. They come at 20-30 knots and peter out as they get to the Hecate, so Juan Perez Sound was cold and rolly, but by the time we got around Scudder Point the winds dropped and the roll disappeared. Then off the Copper Islands we get it again.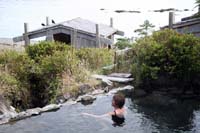 These conditions prevail for much of our stay in South Moresby, which makes the Hecate Strait parts of the trip very comfortable, but takes all the coziness out of the seemingly well-protected inlets. One charter boat skipper is reported to have said he'd been blown out of every bay on South Moresby.

We continue south toward Rose Harbour, and as we approach Houston Stewart Channel the westerly, now more of a south-westerly, begins to build. Houston Stewart Channel is a passage from Hecate Strait through to the open Pacific between South Moresby Island and Kunghit Island to the south. Tidal currents reach 5 knots in the channel, and with the winds at about 25 knots, Cheryl and I are both on alert. We're an hour late for slack water and buck the flood into Houston Stewart toward Rose Harbour, but it's manageable and even though the wind is strong, the seas are flat. We turn into the harbour and plan strategy for picking up a mooring in 25-30 knots of wind - Cheryl on the wheel, John at the bow. We catch it the first try, shut the engines down, and take in Rose Harbour, perhaps a bit stunned that we've actually made it this far.

Next Chapter