e listen intently to the VHF marine weather forecast, blowing SE gales in Hecate Strait, should drop to 15-20 this afternoon and to light to moderate variable winds overnight.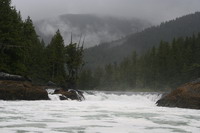 Sounds promising enough so we lift anchor in the rain in Lowe Inlet and start working our way up the ditch. The tides enter Grenville Channel from both ends, meeting somewhere in the middle, so we've timed it to catch the last of the flood, then hopefully ride the ebb up and out into the lessening winds. It's good going for us, not much weather here even though it's blowing 35 SE at Bonilla lighthouse, perhaps 30 miles away in Hecate Strait.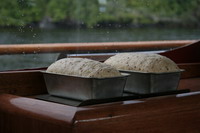 As we pass Watts Narrows the SE starts to build a bit, and by the time we're going past Kumealon Inlet we have 20-25 knots on our stern. That's still pretty comfortable for Sovereign, and the forecast still calls for moderating winds, so we press on through the big rips at Rippon Point and around into Ogden Channel, heading down toward Browning Entrance. As we round each point the winds get stronger and closer to being on the nose. The seas are pretty flat, but the winds are now 25-30, with stronger gusts. One gust takes the pike pole off the coach house roof, where it's lived for 14 years, and flings it into the sea.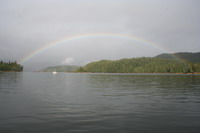 Cheryl and I start scanning the charts and guide books for alternative anchorages - the wind's not going down yet and Larsen and Spicer will be unreachable in these conditions. Captain Cove in Petrel Channel might work, so on we go, remembering our pledge to each other not to put ourselves in harm's way.

Finally we reach Comrie Head, the entrance to Petrel Channel, just 3 miles from Captain Cove and shelter. As we start to round the head we feel the full force of the wind - the canvas is shuddering and trying to tear itself off the boat. Spray hits the windshield like a handful of frozen peas thrown at full force. No choice, we time the suddenly large swells and turn around.

Back we go, around each of the points in turn, this time with the wind easing as we go. We talk about where to go now - the anchorages towards Prince Rupert sound unappealing, but there's a strong reluctance to backtrack too far. In the end we go back 16 miles, more than 2 hours each way, to Kumealon Inlet where the 15 knot breeze seems like a haven.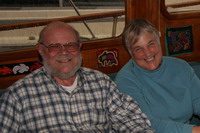 I mark a prawn spot with the GPS on the way in and once anchored we shake off our dry mouths and nervous worries by launching the dinghy, setting the prawn traps and heading in for a look at the marvelous tidal falls coming out of Kumealon Lagoon.

We end up staying in Kumealon for 3 nights, mostly rain, listening to the barely audible VHF forecasts of gale after gale. It's calm in the anchorage and there are more prawns than we can eat, even though we try, so we give some to the neighbors, Rocky and Sue on 'Yarnspinner' from Palmer, Alaska. These two are products of Alaska's "20 years and out" program for teachers - they went up around 1970, taught school and ran the school library for 20 years, and retired to a life off the grid in Alaska, and on cruising sail and power boats the rest of the time. Rocky is irascible and hilarious, and Sue, who has the most expressive face you can imagine, spends a good part of her time apologizing for him. Needless to say, we all throroughly enjoy each other's company.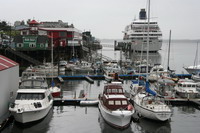 After the third night in Kumealon, Rocky and Sue head out early for Prince Rupert. They're trying to get home, and have been waiting for Chatham Sound to settle down. The forecast is still more gales for Hecate Strait, so Cheryl and I, spirits low, head out an hour or two after them. As we head toward Rupert our spirits begin to lift a bit as we anticipate cel phone coverage and the wireless internet connection at the Prince Rupert Rowing and Yacht Club (PRRYC). It's interesting working through the islands and currents at the mouth of the Skeena River, Chatham Sound is pleasant and we enjoy seeing the gradual signs of commerce and civilization as we get closer to Prince Rupert Harbour.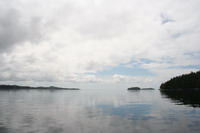 It seems like we're very close to downtown and still no cel signal when we hear that the PRRYC has no room for us for the night and that the entire fishing fleet is in port so the public docks are rafted 5 and 6 wide already. Not good. Then we hear that there is NO cel coverage for Rogers cel phones in Prince Rupert. And a gale coming tonight. We end up heading north 6 miles to a very isolated and lovely anchorage in Tuck Inlet, but our spirits drop. It seems like we're never going to escape this cycle of foul weather and never get across the Hecate to the Charlottes. And we can't phone anyone to let them know. And it's pouring rain. And we're the only boat in Prince Rupert tonight that doesn't have a place to tie up.

Cheryl and I recognize our depression and talk about it a bit, which is a great first step toward getting over it. She makes cookies, which is a great second step. In the morning it stops raining and Sue calls on the VHF to say the PRRYC has a slip for us - I'll bet it wouldn't have happened without Sue's intervention. All of a sudden things look different as we hoist anchor and head for the fuel dock in Rupert.

We end up spending three nights at the PRRYC dock in Prince Rupert. The wireless connection works very well, so I'm able to do some client work and update the website almost like working at home. The cel phones still don't work, so we buy phone cards and use pay phones to touch base. We do laundry and buy groceries and fishing supplies, do some boat maintenance and enjoy some dock socializing and a couple of dinners out, one with Rocky and Sue. The other was at the Cow Bay Café, an astonishingly good small restaurant between the PRRYC and the Cruise Ship Terminal (the green building in the photo).

Finally the forecast calls for light to moderate winds in Hecate Strait, so on Sunday July 10 we leave the yacht club early trying to catch the ebb back across Chatham Sound and down Ogden Channel to either Spicer Anchorage or Larsen Harbour. We find ourselves bucking tide almost the whole way, it's spitting rain and the wind starts to pick up. When we turn south down Ogden Channel, memories of our last trip down here the previous Sunday make us edgy, but the winds die down, the sun comes out and the water goes glassy.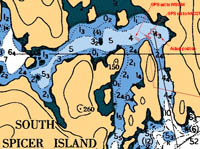 Entering Beaver Passage, we first encounter position errors with our GPS driven computer charting system. Some charts on this part of the coast, and on the Charlottes, were drawn using horizontal datum of NAD27. Modern charts are drawn using horizontal datum NAD83, which is essentially identical to the (Garmin, at least) GPS default of WSG84. Most GPS devices can switch the horizontal datum in their setup menus, which can help some - but errors in position of up to a few hundred feet are possible, and we start checking every new computer chart for accuracy as we go, and treat it as a rough guide only. How different from the south coast, where your GPS shows you which side of the dock you're on.



Update on chart/GPS problem: Within 2 days of Google indexing this site, I had an email from DFO offering to help figure out the problems we had with Chart 3747, Browning Entrance. It turns out, after helpful research by DFO, CHS and NDI, that the issue in the paragraph above, and illustrated in the graphic, was fixed in that chart about 5 years ago, so that anyone with newer or updated digital charts will not experience this particular anomaly.


Spicer Island Anchorage is lovely, the sun comes out and it gets actually warm. We launch the dinghy and explore the maze of islands, catch some quillback for dinner and enjoy the afternoon. The French yacht AY, with Bernard and Marie-Claude and son Pierre, is also waiting to cross the Hecate here. They're been away from home more than 12 years, since Pierre was a few months old, and we help them to understand the garbled marine forecast. We all agree that 5 am the next morning is the time to go.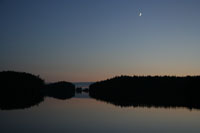 Monday July 11, 5 AM we lift the anchor and follow AY out the narrow channel. It's very foggy, visibility about 100 yards. We're making over 8 knots with the ebb and soon lose sight of AY behind us. North Hecate Strait buoy, #39 on the web site map, is reporting NE10, seas 0.4 metres. Bonilla lighthouse, a few miles out into the Hecate, says N15 with a 2 foot chop and a low N swell. Cheryl and I have that mix of eager anticipation and fear that comes with every major crossing or cape, but the glassy water and the lifting fog give some comfort. The fog lifts completely as we cross the entrance to Principe Channel and the sun warms the boat. We've been unable to reach my daughter Faye in Queen Charlotte, and no one knows we're making the crossing today, so I call Prince Rupert Coast Guard Radio, and they offer to call Faye, after first checking that 6:15 AM was a good time.

Soon we pass the top end of Banks Island a few miles to the south, the fog drops down on us again, though we have a few hundred yards visibility now, and the seas pick up to 2-3 ft from the north, one every 5 seconds right on our starboard beam. It's not as pleasant as it had been, but it's not particularly threatening either and we keep on our course for buoy C19, a few miles south of Lawn Hill on the east coast of Graham Island. The hours pass, the seas come down a bit and the fog lifts, and we have a pretty nice crossing, 72 nautical miles in 9 hours and 5 minutes. We think we're sneaking into QCC, but Faye tells us later that she had 3 phone calls saying "They're coming in", and her neighbour had us in her telescope for an hour.

Next Chapter