fter rounding Cape Caution we cruised inside Table Island at the mouth of Smith Sound, brought back memories of the old fishing days here.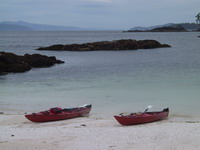 As we approached the anchorage in Fury Cove at the mouth of Rivers Inlet, a lone Minke whale blew and we spent a few minutes trying for the ultimate whale photo. Fury Cove

is a gorgeous anchorage with good protection and good holding, and a white shell spit made by hundreds of years of clams. You can look out over the spit right into Fitz Hugh Sound and see what's waiting for you.

We've been running the starboard engine at 1800 rpm or so to quiet the vibration in the reduction gear. To maintain speed, we put the port engine up to 2250 or 2300, which keeps us chugging along between 7.5 and 8 knots. Leaving Fury Cove we start a series of days where we'll get underway between 7 and 8 am and travel 50 miles or so, 6 or 7 hours, covering ground to the north. This day we headed up Fitz Hugh Sound and cruised by Namu,
my 'furthest north in a boat' spot from fishing days. The waves and wind are starting to reclaim Namu now - there seem to be a few residents there, and an ice float for commercial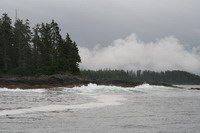 fishermen, but the docks are long gone, and the buildings are starting to crumble. A slow process of decay from the days when the coast was alive with small communities involved in fishing and logging.

We continue up Fitz Hugh Sound, then into Fisher Channel, turn left through Lama Passage and then past Bella Bella into Shearwater

for fuel and an overnight at the dock wedged in between some very large new yachts. When you travel up the coast like this you tend to run into the same people over and over, and you've all seen mostly the same things, but with small differences.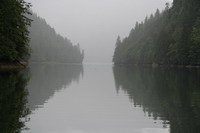 At Shearwater we met Ron and Trudi from 'Tabor Main' - Ron had seen us on the ways in Sointula and had stopped to chat. We also met Rocky and Sue from 'Yarnspinner', and heard the 'coastal legend' about the woman who'd caught a 25 lb halibut off the dock at Sullivan Bay. It turns out the 'woman' was actually Rocky, but we didn't find this out until we had dinner with them in Prince Rupert days later.

The next morning we start the engines as quietly as possible, which is actually thunderous, and un-wedge ourselves from the big yachts. We head out past Dryad Point lighthouse and head west down Seaforth Channel toward a drizzly foggy Milbanke Sound. Just before Ivory Island lighthouse, we cut north into Reid Passage, a narrow but perfectly marked scenic route which avoids most of the weather in Milbanke Sound. Milbanke that day was pretty placid, but we opted for the 7 mile longer scenic route anyway. Up into Mathieson Channel in the moody gray morning - not another boat or person in sight for miles.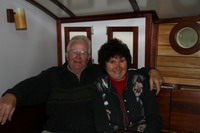 We approached Jackson Narrows at mid-tide on a falling tide with some trepidation. The guide books are a bit sketchy about the strength of the current, but talk vaguely about waiting for slack. We went close enough for a good look, and found the current to be less than a knot, so we went on through. This was a small tide - I'm sure the current would be more of an issue on a big spring tide (spring tide as in around the full and new moons, as opposed to neap tides, the smaller tides on the quarter moons). Into Finlayson Channel and up to Bottleneck Inlet

for the night. Raining, occasionally easing to drizzle.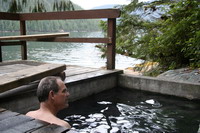 Bottleneck Inlet seems bombproof and very lovely, and we enjoy a visit with Ron and Trudi McDonald on 'Tabor Main', but the incessant rain provides good motivation for taking off early the next morning. It's a long run out through Heikish Narrows and up Princess Royal Reach. One benefit of the rain is the incredible number of waterfalls, seems like one every few hundred yards. As we move north, the wind slowly builds from the southeast and the rain actually stops from time to time, letting us occasionally catch a glimpse of the tops of the cascades. The 'Ice Cream' sign at Butedale tempts us, but the pull of the hot springs at Bishop Bay is stronger and we glide by the slow reclamation by the water and forest of what was once a hub of activity. I remember the comment a friend made when I was thinking of moving to British Columbia almost 40 years ago - "The land has power there", he said.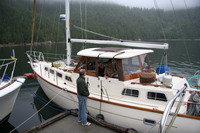 At one point we catch sight of a Humpback whale straight ahead. I run out on the bow with the camera and am fumbling with the controls when he sounds directly in front of us showing us the picture-perfect tail as he goes. Then I discover the compact flash card is still in the computer anyway - this tail display was meant for eyes only apparently. Eventually, after 7 hours of running, we head up Ursula Channel and round the bend and the float at Bishop Bay Hot Springs

comes into view. Incredibly, there's a space at the float for us, and after a brief chat with the neighbors, we head up the trail to the tubs for a most welcome soak.

Bishop Bay has been warming the bones of boaters for many years. Kitimat Yacht Club and other groups have worked on this lovely spot for years, building a small structure, tubs, anchoring a float for tieing up, etc. It's a highlight of the run north and gets lots of use. The night we were there, Canada Day, there were 6 boats - 3 cruising boats and 3 small sport fishing boats, all Canadian boats by some odd quirk.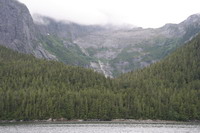 The next day is gray and gloomy, but at least the rain has let up. We intended an early start, but the tubs called and then some important visiting happened and we finally cast off mid morning. We toured north and then around and down through Verney Passage, an incredibly beautiful channel reminiscent of Princess Louisa with towering granite peaks on both sides (at least we assume there are peaks - we could only see up to 2000' or so because of the cloud ceiling - once in a while we got a glimpse of the tops). The SE was still blowing 15-20, but it was good going as we headed in to Hartley Bay for fuel.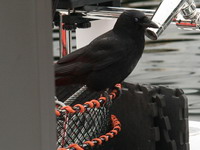 Hartley Bay is a picturesque Tsimshian community with a fine small harbour and a very welcome fuel dock which fills the gap between Klemtu and Prince Rupert. Moorage here is by donation, whatever you can afford. Imagine. Channel 6, the de facto 'everything' channel in the north, will find the fuel person. If it hadn't started raining, I was about ready to move in permanently. The rain, and the forecast SE gale, got us on the move into 'The Ditch', Grenville Channel, 45 miles of narrow fjord-like waterway used by virtually all traffic between Alaska and the south. In just a few minutes we get passed by the first cruise ship we've seen on our trip, and it rocks us around for 15 minutes after it's gone as the wake bounces from shore to shore. We carry on in the rain for 20 miles or so before turning into Lowe Inlet

for the night, looking for protection from the forecast gale. We're worn out from the long day's run and the endless rain, and leave exploring for another day. The forecast holds out a hint of promising weather after the gale blows through, so we plan to head down to our jumping off spot, either Larsen Harbour or Spicer Anchorage, tomorrow.

Next Chapter