inally the appointed day arrives and we cross off all the non-essential items from the various lists, do the final provisioning, and make all the preparations for leaving on the boat - everything breakable is stowed, outboard motor hauled up on deck, dinghy on the swim grid, kayaks loaded on deck and tied down, water, holding tank - there's a long list and we work through it with exhausted anticipation.

For a while it seems like we might have to delay for a day - we were at the studio til midnight last night photographing Cheryl's newest paintings for the gallery, and a sudden nasty bug appeared this morning in my major client's software - but all these things are resolved and just after 1400 we untie the lines and are off.

We've planned a quick stop at the fuel dock, and then motor out for Noel and Joan to get the 'Departure Photo', but we suffer our first breakdown of the trip when I try to switch the holding tank valve from pumpout mode to macerator mode, and the handle snaps without moving the valve. We finally get under way just after 1500, and, amazingly, Noel and Joan are still waiting at the point. I'm sure she enjoyed the messages on her cel phone when they got back to the car.

The first afternoon we travel through cloudy skies, then rain, then a gusty wind switch from NW to SE, including a weather warning for Merry Island for gusts to 30 knots and rough seas given 20 minutes before we were there.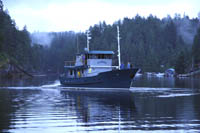 Fortunately we missed most of that squall and ended up motoring into Secret Cove

just before dark. We've been in this anchorage once before in a big SE blow and watched the trees bending over our heads while we sat in almost calm conditions down below. It was the same again - perfect shelter from the storm. Just have to remind ourselves not to go any further east than the end of the RVYC outstation dock - every time we're there we see someone hit the mud.

Our second day, June 22, we travel from Secret Cove to Squirrel Cove

on Cortez Island. There's a big flood tide to push us along, and the rain gives way as we go to sunny skies and gentle winds. Seems like many boats in Squirrel for this time of year, but it's a big anchorage and there's always room for one more.

Traveling north on the BC Coast takes you through a series of gateways - Cheryl thinks of them like the C.S. Lewis wardrobe door - for me they're more like Huxley's Doors of Perception - they're natural barriers, each of which requires more preparation, more self-reliance and more independence than the last. Many boaters never leave the bountiful cruising grounds of Georgia Strait and Desolation Sound.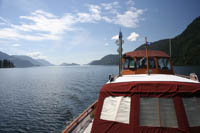 The tidal rapids of Seymour Narrows and the Yucultas make the first gateway. Getting around Cape Caution at the northern end of Vancouver Island is the second. When I fished here in the 1980s there were very few pleasure boats north of Cape Caution. The third gateway is getting to Haida Gwaii, either across Hecate Strait, the route we will take, or across Queen Charlotte Sound, a route used by many cruising sailboats.

We're running out of time to post this tonight (June 25), so here's the abbreviated version of the next 3 days. On the 23rd we noticed a vibration in the starboard shaft, but deemed it ok to travel, so we headed north from Squirrel through the first set of rapids (Yucultas, Gillard Passage and Dent Rapids) at low slack, then to Shoal Bay

, where we tied to the dock for the night. I put on a mask and stuck my head under but couldn't see any problems with the propeller. Then tied the boat off to the dock and put it in gear and checked the coupling and again stuck my head under - still couldn't see or feel anything.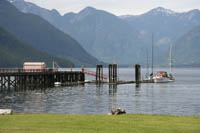 We decided to leave early the next morning to catch the high slack at Greene Point and ride the big ebb up Johnstone Strait with an eye toward hauling the boat out at Alert Bay or Sointula.

The winds were calm in Johnstone Strait, so we took advantage of the big ebb and went all the way to Growler Cove

,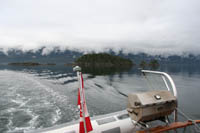 just across from Robson Bight, before stopping to cook some food and have a bit of a rest. Leaving there, we reached Tarkanen Marine Ways

in Sointula on the cel phone - could we possibly get hauled out sometime to check shaft and bearings, etc - Tom said "How about the next tide - I don't have the book, but I think it's in a couple of hours". Needless to say we headed straight to Sointula.

This morning (June 25) at low tide,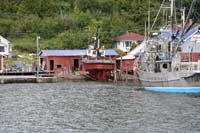 we could see that the underwater structure was all fine. The problem appears to be in the reduction gear, and that's going to be hard to fix during the trip. The question for us now is can we continue the trip by taking the stess off of the starboard transmission (reduction gear) by running that side slower, upping the speed on the port side to compensate.

Off the ways on the afternoon tide June 25, then over to Port McNeill

for fuel, then anchored out and used the Broadband Express wireless internet service to post this update. We never did see the wireless transmitting antenna, but we were anchored over 1/2 nm (approx 3000 feet) from the dock and it worked very well with the high power card in the laptop as long as we stayed up on the bridge deck.

Later that night we discovered our macerator pump motor was completely shorted out - the one pump I didn't have a complete spare for.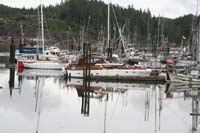 Sunday morning June 26 we searched Port McNeill, but the only marine store didn't open Sundays, and it looked doubtful for having the pump. I phoned Port Hardy

and found two places open with pumps, so we headed there , picked up a pump, and went straight out to Walker Group Anchorage

. We cut through the Gordon Group on our way and watched a lone humpback whale take the same shortcut.

Walker Group Anchorage is wild and beautiful with entrances to both east and west. A lone sailboat, the 'Surf Scoter' out of Sidney, B.C. was there when we arrived, and it looked like the two old wooden boats would have a quiet anchorage to ourselves.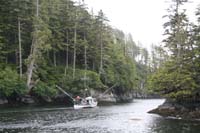 Then just at dusk the old fishboat 'Sharon S' came in, dropped anchor about 100 feet away and we realized they had a live tank hold with a very noisy generator/pump affair that was going to run all night. Oh well, these are tough times for many B.C. fishermen, we can handle some noise. Next day the forecast was dicey for going around Cape Caution, so we tried out our fishing gear. In about 10 minutes we had a salmon on, but couldn't land it - and then couldn't find another.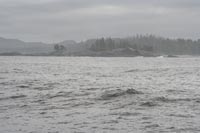 Tuesday June 28, forecast was for NW 10-15 dropping to light, West Sea Otter buoy was reporting 1.4 metre combined sea and swell height, so off we went for Cape Caution, keeping the anchorage at Miles Inlet close at hand in case things got ugly. The swells were large, but with no wind the sea was glassy and we pressed on for a pretty comfortable first passage around the dreaded Cape for Sovereign and Cheryl. We're through the first gateway.

Next Chapter