F
or me (John), it all started in the early 70's when I was looking to buy a car. I went over to Whonnock, BC to see an old Volkswagen beatle.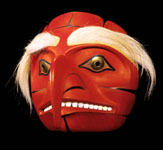 An extremely cordial and charming native guy showed me the car - it would do, and we made a deal. Then I saw an unusual outbuilding for Whonnock in those days -

"What's that building?", I asked.
"It's my studio", he said.
"What do you do in there" - I was getting pretty interested.
"Come on in, I'll show you."

And that was my first introduction to Robert Davidson, the incredible world of Haida art, and the Queen Charlotte Islands. In his studio were a number of silkscreen prints he did himself and sold for $8.00 each. And an exquisitely engraved silver bracelet - I had never seen anything like it. And a solid cedar entrance door he was doing on commission. And a silver barrette.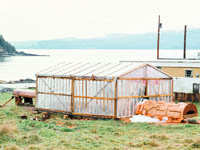 "Would you make a barrette for my wife?", I asked.
"Sure", Robert said.
"What would it cost me?"
"How about $75.00?", he asked.
"OK, it's a deal"

I came home with 2 deals, one for a beatle and one for a barrette. And more. We became friends and I began to photograph Robert's work. Our families became friends. Robert introduced me to Bill Reid,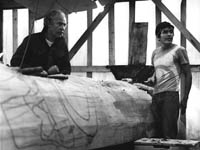 who had been his mentor. Bill had seen my photographs of Robert's work, and asked if I'd like to try a gold pendant he'd just finished. That led to my traveling to the Charlottes for the first time, in 1976, to stay with Bill and photograph his initial work on the totem he carved in front of the Skidegate Museum.

A second trip with my family in our trusty new VW van followed. In those days there wasn't a BC Ferry to the Charlottes - we made our way to Prince Rupert where the van was loaded by crane into the hold of a Northland Navigation
ship, which crossed Hecate Strait
in a full gale to Masset.
We drove every road we could, including the logging roads to Rennel Sound
and Moresby Camp.
We met Bill Kristofferson,
designer of the Kismet trimaran, who got me going on an as-yet-unending love affair with boats. We rode one of the last Northland boats from Skidegate Landing
all the way to Vancouver, with stops at Sewell Inlet and other logging camps on the way.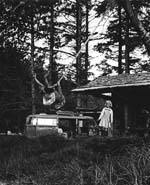 Even though Bill K. got me going on boats, my first boat was a 9' Glen-L sailing dinghy built in the garage out of Airex-cored fibreglass. Next was a Bruce Roberts 43' Mauritius set of plans, finally a set of plans for a Brandlmayr custom 35' cutter. This one made the 'Designs' pages of Pacific Yachting in the late 70's, and we lofted the lines and built up a hull on an upside-down frame. Then (there's always something) a friend's Dad was wanting to retire and sell his old salmon gillnetter. 35 feet long, "A" licensed, selling price was license value only, boat was free. I couldn't resist, and suddenly owned a fishboat.

It didn't take long to discover why the boat was free. And the one day per week fishery from April to October in the Fraser River ceased suddenly that year (1980) in the 3rd week of April, never to open before July again. Still, that old boat, the Verna Ann, took me all over the coast - Barkley Sound every June for sockeye, then Smith and Rivers Inlets, finally back into the river for late July and August.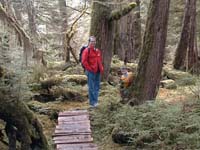 If there had been any doubt before, it was gone now - I was hooked - not so much on fishing, but on the coast.

The '90s brought many changes - I bought Sovereign and moved aboard at Spruce Harbour in False Creek, right in the heart of Vancouver. Faye and Kerry fell in love, Jordie was born, and they all moved to Queen Charlotte City after Kerry received his B.S. in Nursing from UBC. And so, as a new grandfather, 'PapaJohn', (can I be old enough to be a grandfather?) I renewed my connections to the Charlottes.

Faye and Kerry and Jordie have a rich life in the Charlottes - the abundance enjoyed by the Haida endures - their freezer is full of salmon, halibut, prawns and venison. They catch crabs a few minutes from home and share a fishing cabin at Peel Inlet. Jordie's school is in Skidegate and he's learning some Haida phrases as part of the curriculum. They're on the beach somewhere every week of the year walking and beachcombing.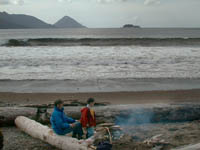 Sample pre-dinner dialog:
Jordie asks Faye "What's for dinner?"
"Prawns and ling cod", Faye replies.
"Prawns againnnn?" groans Jordie. "Oh well, I guess I could eat 20 or so..."

The '90s also brought me together with Cheryl. That rarest of occurrences for a guy hooked on boats, finding a woman who's passionate about it too. Together we've been making Sovereign shipshape and turning her into a more comfortable home. We've made dozens of trips around the South Coast from the Gulf Islands to Desolation Sound, but this will be our first major trip.

Next Chapter