elcome to our journal for our trip to Haida Gwaii/Queen Charlotte Islands in the summer of 2005. The plan, now reality, was to take our 1949 Chris Craft up the inside passage to the top end of Banks Island, then head across Hecate Strait to Queen Charlotte City where my daughter Faye has lived with her husband Kerry and their son Jordie for nearly 10 years.


Fine Edge Publishing, publishers of the Douglass "Exploring" series we relied on so heavily on the trip, are displaying our web site on their main page as part of their 'Cruising Information' program. Check their web site for all their titles and other juicy cruising tidbits.
Don and Réanne Douglass, authors of the fine "Exploring…" series of cruising guides, are featuring our site on the main page of their latest venture InsidePassageNews.com. Their site is full of information for travelers interested in heading north.

After restocking and maybe a quick trip out to the West Coast through Skidegate Narrows (Kerry's local knowledge will help a lot with this, among many other things), we'll head down the East coast of South Moresby island to the fabled Gwaii Haanas national park.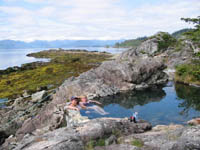 A trip to Haida Gwaii is as much a spiritual experience as a physical one. The isolation of the islands from the mainland coast, and the abundant food supply, gave the Haida the perfect environment to nurture their powerful culture. Haida canoes roamed the coast from Victoria to Alaska. They were accomplished boatbuilders, navigators and warriors. And it was/is one of those rare cultures that makes art essential to life. Haida Gwaii gives us the chance to see small bits of that art in its original setting before the winds and rains of the North Coast take it back.

We expect our audience will be family and friends mostly, but also some strangers looking for info on cruising to Haida Gwaii or interested in old wooden boats,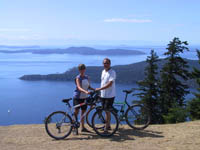 and who knows who else might stumble into it. I (John) will likely do most of the writing and web work, but Cheryl will add her insights from time to time. We both take photos, lots of them, and have 2 computers on the boat for processing all this stuff.

Both Cheryl and I are still very much in the working world, so arranging two months off for this trip was only possible with the gracious indulgence of our clients. I do database software development, while Cheryl is an accomplished painter working in acrylic and watercolour, and teaching courses in her studio. See her web page for more about her work.

Next Chapter